by Andrew Ellis
The farther you drive into northern Minnesota, the more you'll find yourself surrounded by trees, lakes, and never-ending roads and trails, and the Brainerd Lakes Area is no exception. When you want to escape the city for a taste of the come-stay-a-while vibe of relaxing by a lakeside, you're in luck.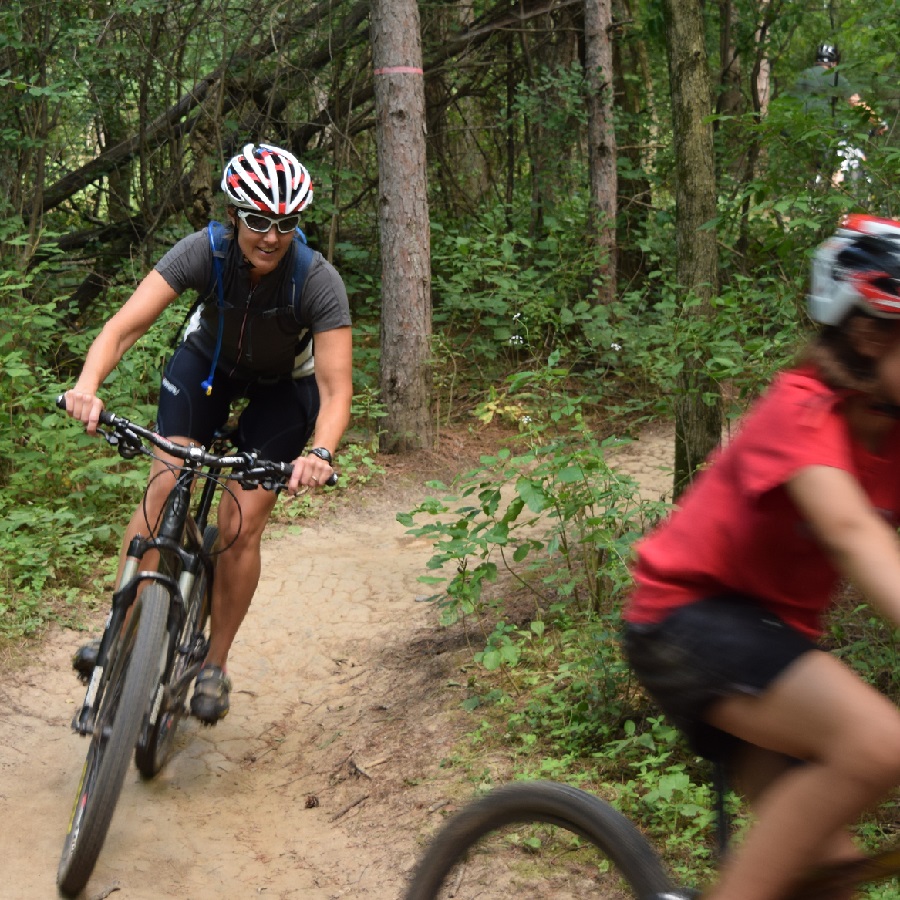 It's a slowed-down pace, but there really is no better way to enjoy the great outdoors of Minnesota. And if you're going to be getting around on your bike, you can go at any speed you choose. Also, the number of lakes in the area makes it easy to find a place to drop a line in the water.
More about the bike-friendly Brainerd Lakes Area
With many bike-friendly street routes to get you to and from the area hotels in the Brainerd-Baxter. You will also the famous Paul Bunyan Trail, which takes you all the way to Bemidji, and the Mississippi River Trail, easy to access here.
When not touring the lakes area, there are plenty more ways to make everlasting memories. You can walk around Paul Bunyan Land, head over to Pirate's Cove for some mini-golf, or take a tour of the area on a zip line at Mount Ski Gull.
The area also caters to those who may want to cool down with an indoor activity or have a more relaxing evening. You can enjoy a great meal and a view of North Long Lake or Gull Lake simultaneously with one of their lakeside restaurants. If you want some more local culture, there are plenty of art exhibits, plays, and more shown in the area. And don't forget the shops, either. There are plenty of unique shops where you can find the perfect souvenir.
Biking opportunities in the bike-friendly Brainerd Lakes Area
Get your bike and get ready to pedal. Brainerd has plenty for you to do. You can take on some mountain bike trails, start the journey up Paul Bunyan Trail, and use road loops to explore the area on your own.
Paul Bunyan Trail
Starting in Brainerd and winding around some of its lakes is the Paul Bunyan Trail. You'll get a great tour of the northern country life of Minnesota. There are three sections to the trail, or you can take the entire 120 miles that take you to Bemidji, where you can see the famous statues of Paul Bunyan and Babe the Ox.
Cuyuna Lakes State Trail and mountain bike park
Just east of town, you'll come upon the natural beauty of the Cuyuna Lakes area. There, you have a couple of options. There's a 20-mile trail that takes you northeast to the Croft Mine Trailhead. This trail will take you through Minnesota's north countryside, full of lakes prime for fishing and swimming and beautiful forests full of trees. It's a freeing experience you won't soon forget. You can also take on the mountain bike trail system. Each trail varies in difficulty depending on how much of a challenge you want. Obstacles include rocks, wooden paths, and more. You'll definitely want to come back.
Road biking opportunities galore!
There are plenty of trails and loops to help you make your way around Brainerd and the surrounding area. You can take West Baxter or Sylvan that take you both deeper into the heart of Brainerd and to its perimeter, which also takes you by a couple of lakes. Then there's Merrifield and Gull Dam Trail that take you north of town and around several of the area's lakes. The South Long Lake Trail takes you southeast and gives you a little view of South Long Lake. Starting just southeast of the town, you can take Camp Jim Trail that travels north and loops around the town. Plus, there is plenty of fun for those who won't ride an MRT section (Mississippi River Trail).
See more about the Brainerd Lakes Area here for your next bike adventure.