by John Brown, HaveFunBiking.com
Bikes are fun to ride. Any distraction from that fun can be annoying. One distraction that is easy to eliminate is the various annoying noises your bike can make. It's easy to eliminate because as your bike makes noise, it's telling you what's wrong. Here are some of the most common noises and their causes.
Annoying Noises from Corrosion
Before we get into the annoying noises themselves, we should talk about what causes them. Most annoying noises are caused from corrosion between two surfaces, or excess wear. Noises from corrosion can be remedied easily, whereas parts that are worn out need to be replaced. In most cases, corrosion is not visible to the naked eye but can be removed with degreaser and guarded against in the future with a little grease.
Annoying Noises or Creaks
"Creaks" are the most common and annoying noises on your bike. It usually sounds like you are opening a rusty door when you pedal and will subside when you stop pedaling. Creaks are attributed to either the pedals or the bottom bracket (fancy name for the bearings on which your cranks turn).
If there is side to side movement in either pedal or the entire crank, you should take your bike into a bike shop to have it serviced. If there isn't any play, the creak is probably associated to corrosion. Removing the pedals and greasing the threads, taking off the chainrings (large gears attached to the crank), or removing the crank and greasing the bottom bracket spindle will usually silence the bike. If the creak persists, take your bike into the shop for a more thorough examination.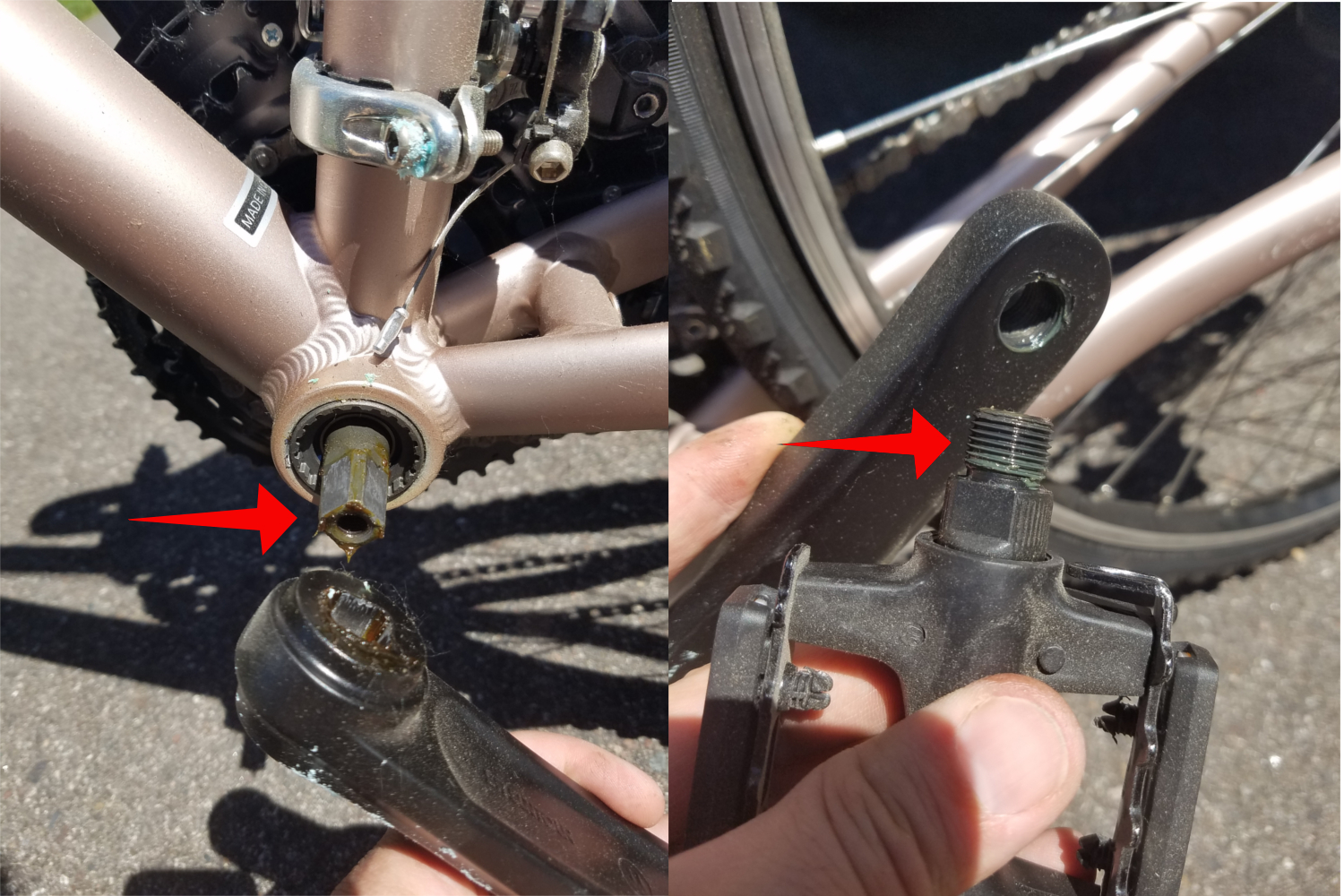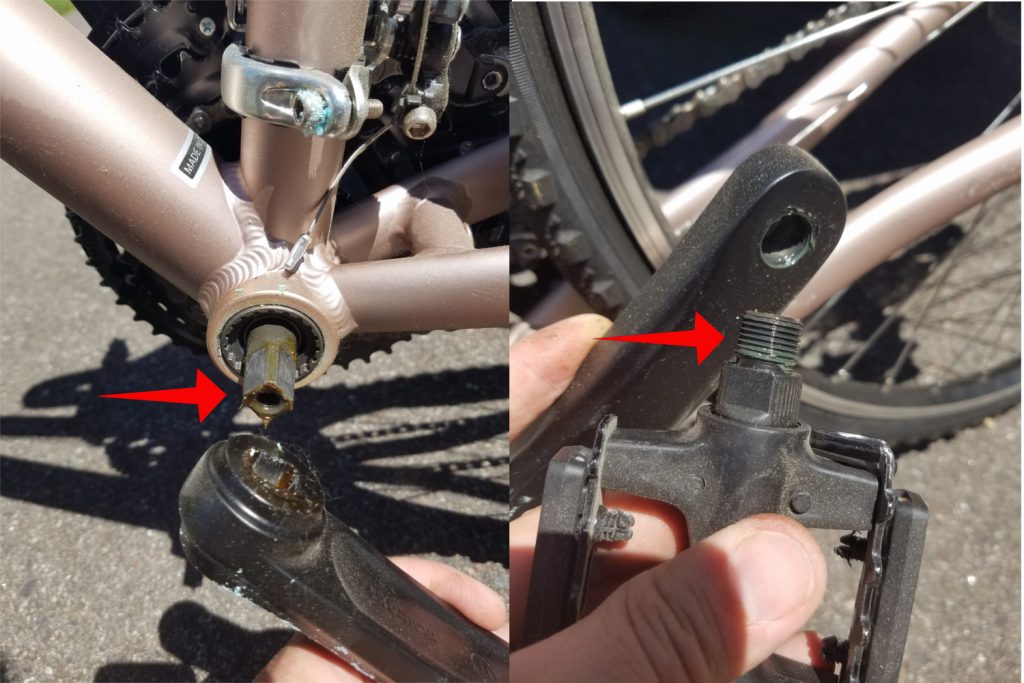 Annoying Noises or Clicks
Unlike creaks, clicks rarely follow any sort of rhythm and usually come from the handlebar, seat, or seat post. An easy way to test where the click is coming from is to do it off the bike. With your feet on the ground, flex the bars from side to side. If you hear a click, loosen the stem, clean the bar, and apply a thin layer of grease before reinstalling.
The seat and seatpost can be treated just like the bars. While off the bike, flex the saddle forward and backward. If you hear a creak, remove the saddle, clean the saddle rails, apply grease and reinstall. The next step is to remove the seat post from the bike and grease the seat tube before reinstalling. It is important to note that carbon fiber posts and frames should not be greased. instead, use a carbon fiber friction paste like Park Tool's SAC-2.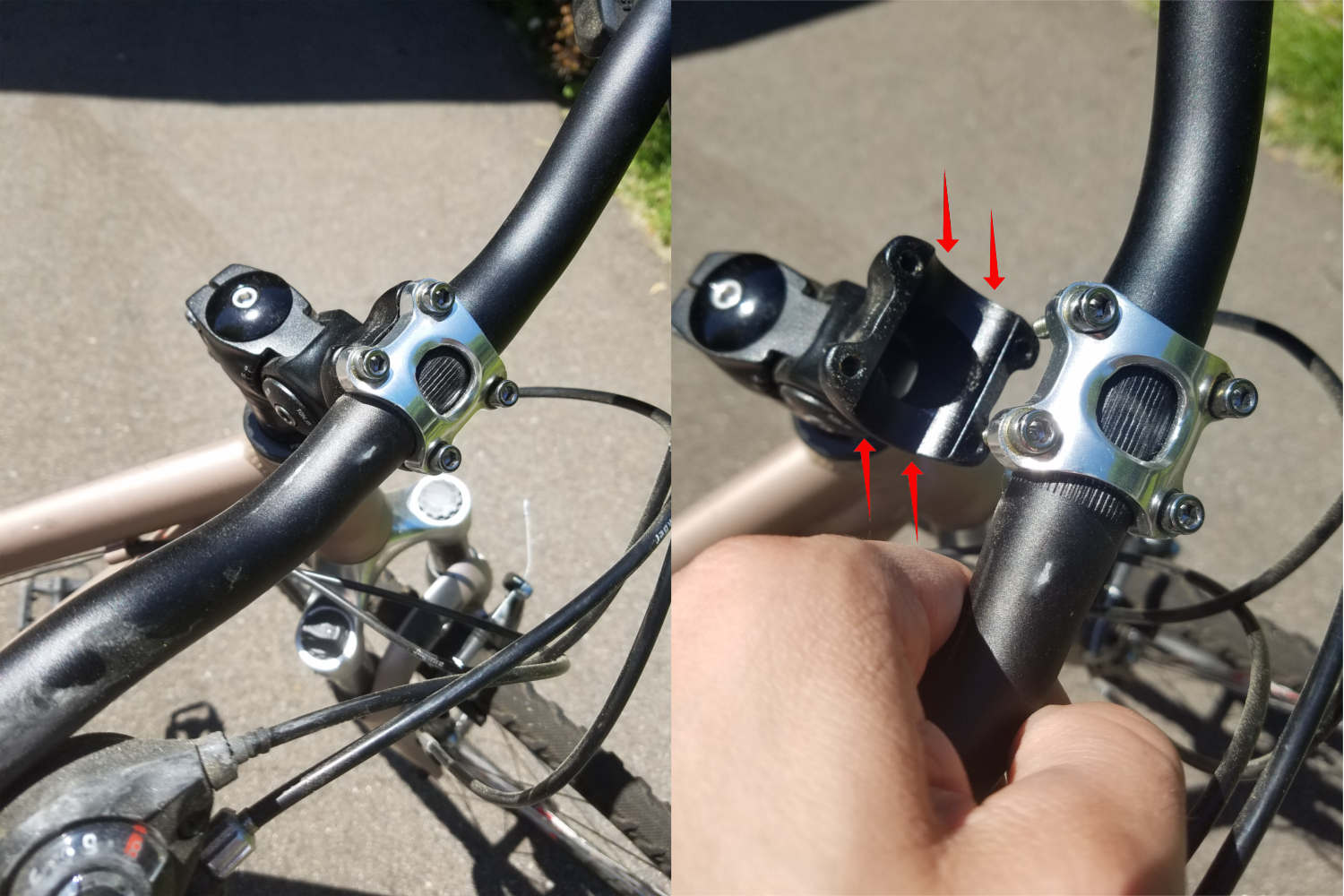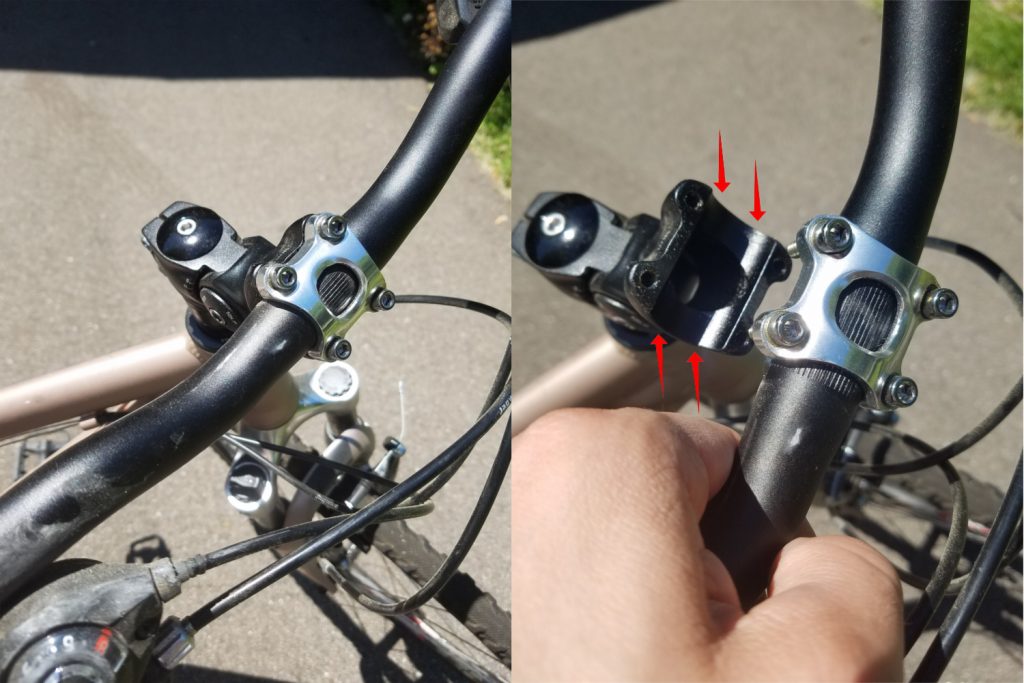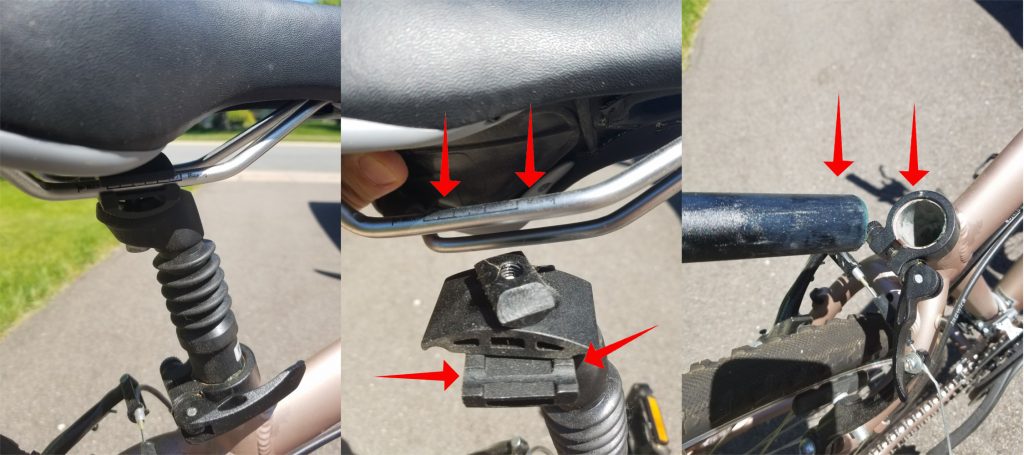 Squeak
Squeaks sound like you have a mouse or small bird trapped somewhere in your bike. Like creaks, they are usually rhythmic, but can continue even while not pedaling. Squeaks are usually caused by a lack of lubrication. Typically, a bearing's rubber seal is rubbing against a metal surface and the vibration causes a squeak.
The easy remedy for a squeak is to first locate it by spinning each wheel independently. Next, spin each pedal independently. Finally, try back pedaling. Listen for where the noise is coming from then apply a wet lubricant like Park Tool's CL-1 to where the rubber seal meets metal. Spin the offending part until the noise goes away then wipe off any excess lube. Additionally, chains can squeak sometimes as well. To correct that just clean and lubricate your chain.
Brake Squeal
If you squeeze you brakes and hear a noise somewhere between a small squeal or a fog horn, then you are suffering from brake squeal. Brake squeal is caused when the brake pads touch the braking surface and, rather than building friction, vibrate. The noise you are hearing is that vibration. Before you get to concerned, brakes will oftentimes squeal when they are wet and be silent again when dry. However, if the noise persists when dry, the two major causes are adjustment or contamination. With an adjustment issue, the brake pads are hitting the brake surface at an angle that causes them to vibrate and readjusting the pads should solve the problem.
For contamination, the solution is somewhat more involved. First thing to do is determine what type of brake you have, rim or disc. If your bike has rim brakes, your brakes use rubber pads to press against the rim near the tire. For disc brakes, semi-metallic pads press against a steel rotor mounted to the center of the wheel. To clean a rim brake, use soap and water (dawn dish detergent works well) to wash the rim and brake pads. Also, scour the rim and brake pads surface with sand paper or Scotchbrite. For a disc brake, start with soap and water as well and scour the rotor surface. If the noise doesn't subside, take it into your local shop for pad replacement.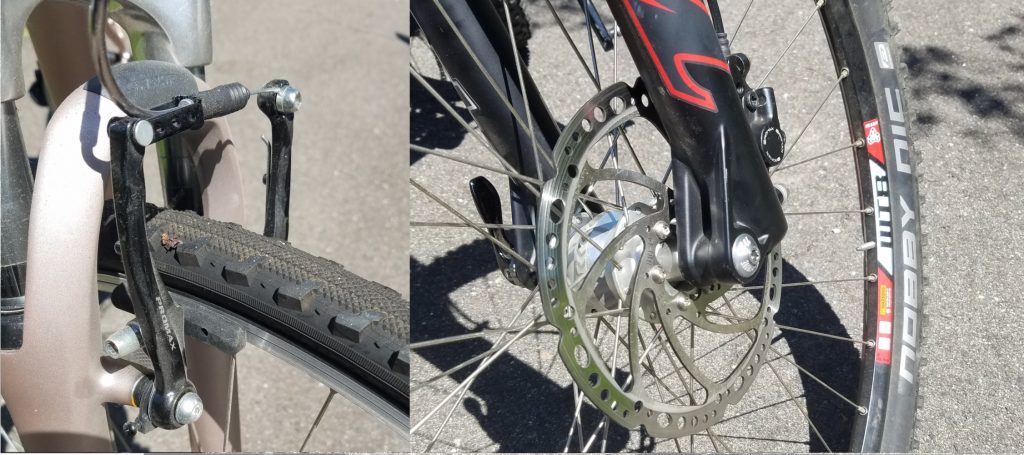 Clunks
Clunks are the sound of one object hitting another and are usually heard when you run over a gap in the road or over a curb. Most clunks are serious and should be resolved as quickly as possible. They're serious because something on your bike is loose or worn out. The most common things to come loose are your wheel's hubs or the bicycle's headset. To test and see if the hubs are loose, grab the rim and gently push side to side. For the headset, (the bearings on which your fork and handlebars turn) simply turn your bars 90 degrees, squeeze the front brake and rock the bike forward and back. If you feel any play or rattling, take the bike in for service.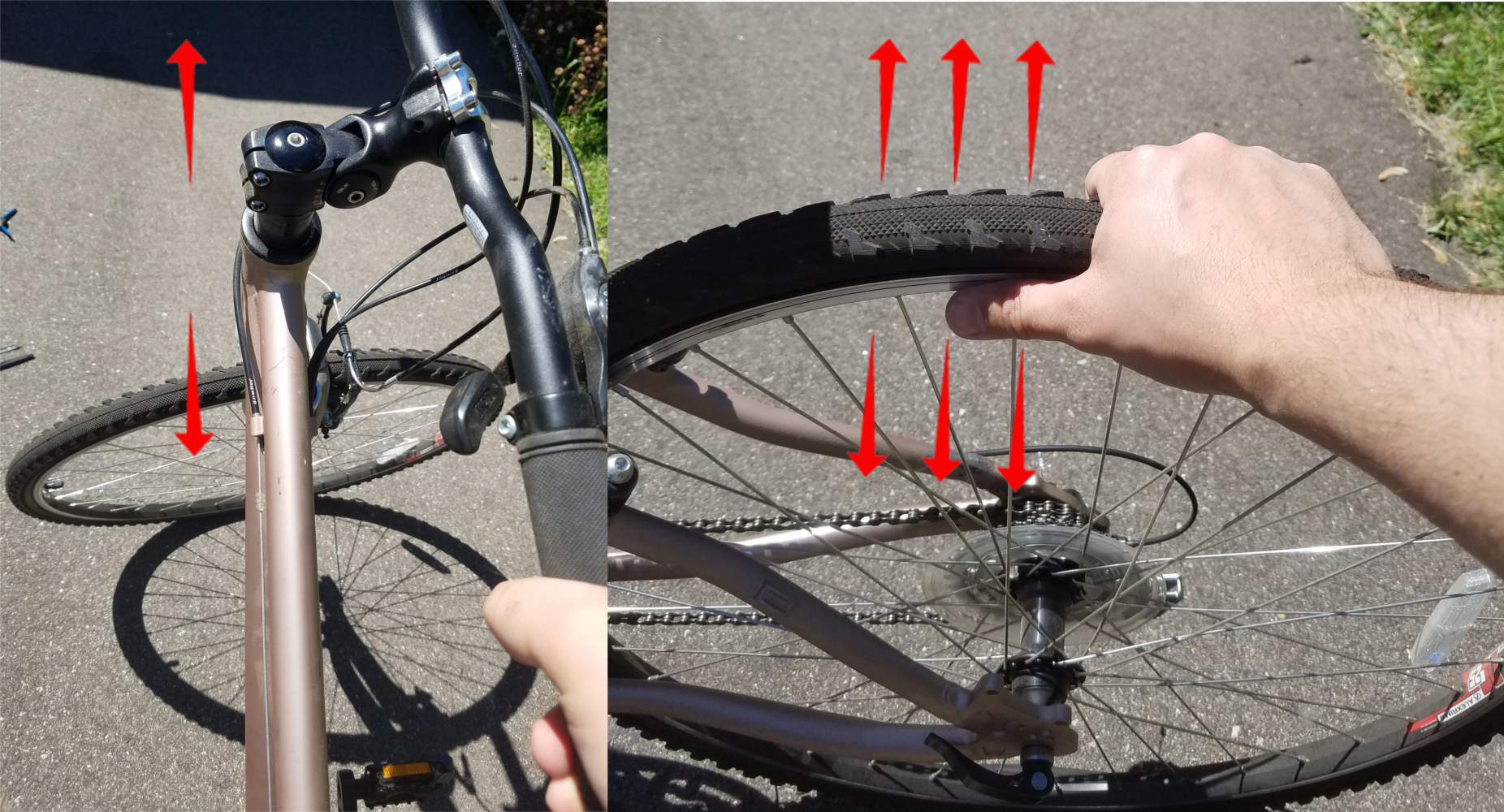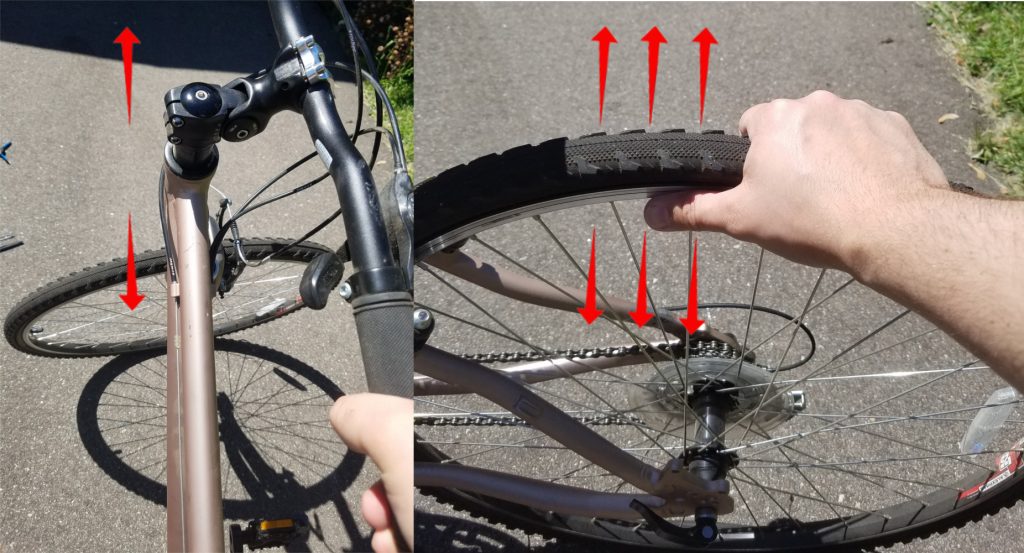 Clunks are also often found in suspension forks and seatposts. If you feel a clunk only when dropping off an object and have checked your hubs and headset, chances are your suspension needs attention. Suspension service is best left to your local bike shop. They can assess if the suspension needs either service or adjustment.
Service
In most cases, noises coming from your bike signal that it is a good time to bring it in for service. A trained mechanic can assess and remedy noises far faster than you. That doesn't mean that you can't do any of these repairs at home. In fact, most of these problems are easily fixed with a little attention. The only consideration before entering into the project of noise tracking is how much time you want to devote to it. Hopefully these tips will give you the confidence to try.