by John Brown, HaveFunBiking.com
The summer months ahead will play host to countless hours of family riding fun. During these bicycle outings its the perfect time to teach your kids about riding safely. All things considered, there are just a few topics to teach. Please read below for the details.
Safe riding starts with a helmet
First and foremost, a well-fitting helmet cuts down the risk of serious injury by half. As a result, helmets are the single most important piece of cycling gear for kids, and sadly one that is not used by many riders under 14. As an example, a well-fitting helmet will be snug on the rider's head. Additionally, the strap toggles are located about ½ inch below the ear lobe and the chin strap is tight enough to hold the helmet on your head, but not so tight it chokes you. Furthermore, be sure to consult the manufacturers recommendations for when to replace your helmet. Important to realize, is that helmets lose effectiveness over time, so review it's production date.
Helmet fit
Be sure that your child is comfortable on their bicycle and it is sized properly. Bikes that are too small or too large are difficult for children to control. As an example, good fit is when your child can stand over the bike with 2-3 inches of clearance between the top tube of the bike and them. Also, the kid can easily sit on the bike and pedal without their knees raising so high it impedes their ability to ride. Additionally, a child should also be able to hold the bars without stretching so far they cannot confidently handle the bicycle. If you have concerns about the fit, visit your local bike shop to have the bike adjusted.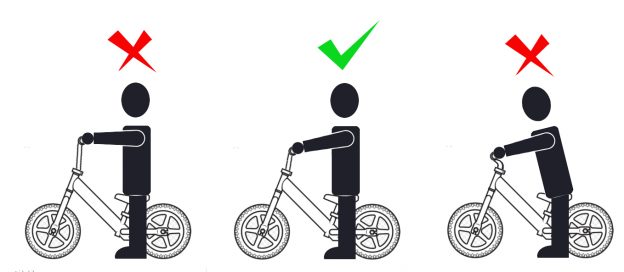 Bike function and riding safely
Verify that the brakes work, tires are inflated and controls are tight. Be sure that your child can squeeze the brake levers easily and stop the bike. If they struggle to squeeze the brakes, have the bike serviced at your local shop. Additionally, keeping proper air pressure in the tires will limit flat tires and aid in control.
Visibility and Riding Safely
Kids bikes are required to be sold with reflectors on the bars, seatpost, wheels, and pedals. Those reflectors should be considered the most basic level of visibility. Add to that visibility, by having your kids wear brightly colored clothes, installing lights and a flag on the bike. With young kids try to avoid riding at night or at twilight.
Riding skills
If your kids are better riders, they will be safer. Teaching basic skills can be fun and easy. Find a flat section of low grass (like a high school football field) and have them practice riding with one hand off the bar. Use the Board Trick to learn how to handle riding over obstacles. Another great way to learn riding skills is to enter into bicycle rodeos (many local shops put these on).
Learning to signal
When riding a bicycle on the road, you are required to follow posted traffic laws as well as signal your directions. Teach your kids the basics of signaling turns and navigating on roads.
Sidewalk and Bike Path Courtesy
Riding to the right is the most basic rule of riding on sidewalks and bikepaths. What is more important than that rule is the courtesy of riding around others. If you are trying to pass a rider you should verbally signal where you are passing. A quick "on your right" is all it takes, wait for the rider ahead to move over and allow you to pass safety. When being passed, be sure to yield the path by moving over and allowing the overtaking rider to pass safely. If you are stopping on a bikepath look for a wider section of trail or a clearing. Make sure that all members of your group are off the side of the trail and leaving ample area for others to ride past. Being courteous is the best way to make sure everyone has fun.
Ride with them
Kids learn a lot from the example set by their parents. Ride with your kids, show them the right things to do with your actions and teach them the right things to do with your words. Make safe riding part of the fun.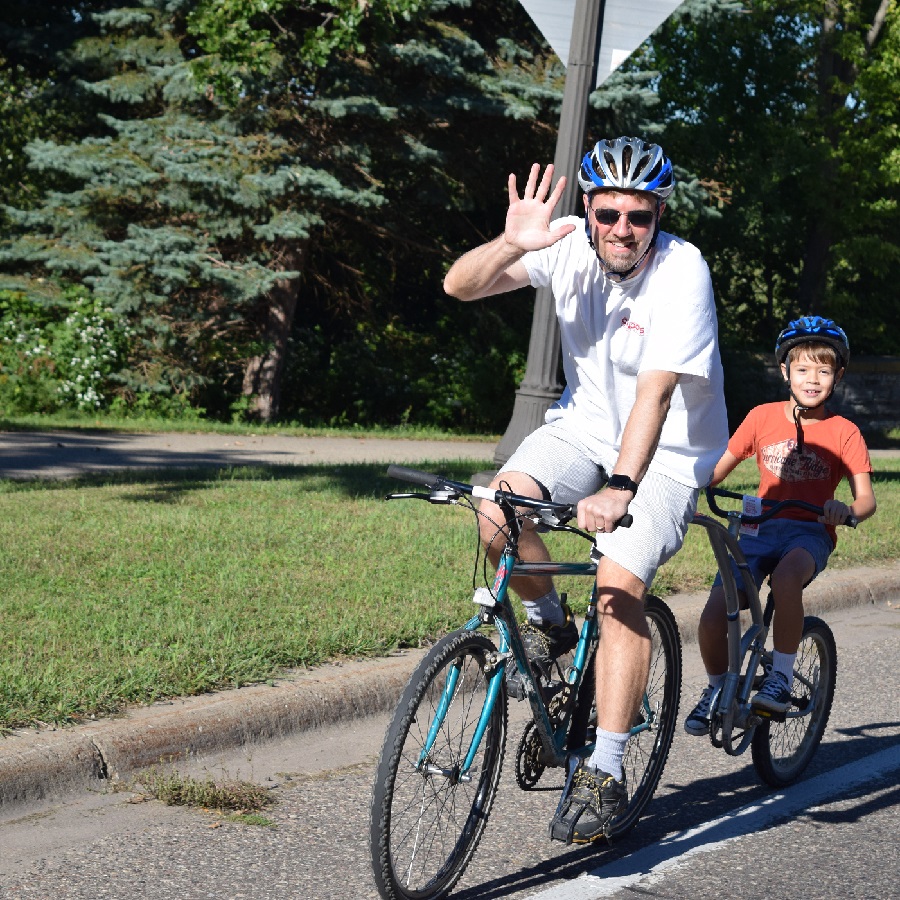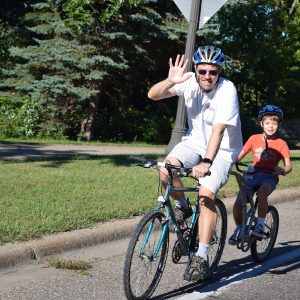 Keep senses clean
It's tempting for kids to try and bring a phone or iPod on a ride with them. They may want to be able to check their texts, listen to music or just have their digital device with them. Those distractions are a detriment to your child's safety. Keep your digital toys in a backpack or better yet at home and focus on the world around you.