by John Brown, HaveFunBiking.com
Lights, no matter your level of bike riding skill, are essential to make sure you have the safest ride possible. And sometimes when you're riding in conditions without optimal visibility, you need a little added illumination. Plus, most states require bike lights to ride on a roadway (here is Minnesota's law). That's where proper lighting comes in.
Lights are the best way to stay safe when the sun goes down. The two types of lights on the market are lights that allow you to see, and lights that allow others to see you.
Lights to Help You See
To help you see, use a high output LED to cast a focused beam of light out in front of you. These lights start at 600 lumens and increase in output. Their size and run time depend on the battery: rechargeable, battery-operated, or run by a generator. So, how do you know which one is best for you? It all depends on how often you plan on using it. The battery-operated kind work well as backups in the rare chance you get caught in the dark. The rechargeable kind are best if you plan to use them on a regular basis, and want to save on batteries. If you ride long periods of time in the dark, then it's hard to beat a generator-powered light. Any of these lights will be great for unlit roads, trails, or paths.

When you look to buy a light, they are all compared by the lumens they produce. What's a lumen, you ask? Well, lumens are the most popular description of brightness. In the past, lights were measured by the amount of energy they consumed (watts), but with the creation of LEDs that get more light output with less power consumption, measuring brightness with watts has become impossible. Simple rule, more lumens equal brighter light. As a comparison, the iPhone flashlight is less than 10 lumens.
Lights to Help People See You
The lights designed to be seen use an LED to flash intermittently when turned on. They can be as small as a few coins stacked on top of one another, and have run times in the hundreds of hours. They are usually easy to move from bike to bike if needed, and are great for city streets and well-lit paths. Some riders are now finding added security in running these lights during the daytime.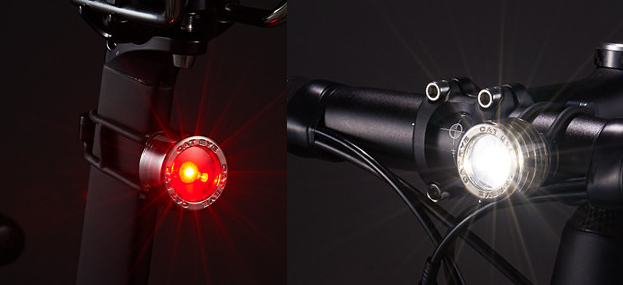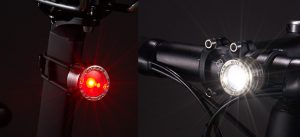 Reflectivity
Another great way to ride safe in the dark is to use reflective products. Thanks to advancements in reflective technology you can find clothing that is completely reflective, looks like normal fabric, and glows when hit by light. There are reflective stickers you can adhere to your bike, and reflective bags you can mount behind the saddle or on your handlebars.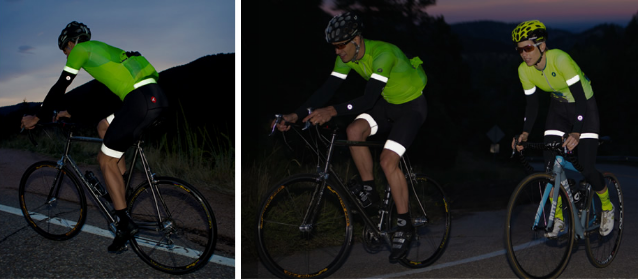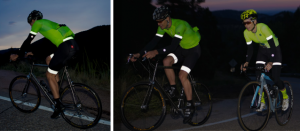 How to be Seen
Visibility is about safety so it's best to use a belt and suspenders approach. A headlight will allow you to see and be seen from the front. Match that with a reflective jersey and you become visible from the sides as well. Mount a rear blinker and you become visible from 360 degrees.