by Fred Oswald
Winter commuting offers challenges and rewards to those who use a bicycle for work or to just run errands and here are some suggestions for safe riding.
 Layers
The cold weather requires keeping hands, feet and especially ears warm while not overheating elsewhere.  The solution is layers of clothing with ventilating zippers using wool and other synthetic clothes products and stay away from wearing anything cotton which will  trap perspiration and make you cold.
For top layers a breathable wind shell over a wicking fabric works well.  Lined nylon running pants with leg zippers can keep legs warm.  Elastic sewn on the right cuff helps keep it away from the chainring.  An ear band or balaclava under the helmet will keep your head warm. 
Below freezing, wear liner gloves and possibly mitts. in really cold weather, keeping feet warm may be difficult.  Neoprene shoe covers will help.  A cheaper alternative may be insulated hiking boots and one of the many varieties of pedals with little pegs for gripping, available at your favorite bike shop.
Fenders
To protect both yourself and the bike from salt splash thrown up from wet roads, get fenders. 
If fenders do not extend low enough, add homemade flaps made from a material such as from a plastic milk jug.
Handling Black Ice
A special winter hazard is black ice.  My worst fall was in a place where the road looked clear except the blacktop was just a little "too black". Some cyclists ride with chains or studded tires and now with the availability of fat tire bikes riding on ice have become much more stable – Though others wait for dryer roads for safe riding. 
Handling Visibility
Another problem is visibility.  In the early morning or late afternoon you may be invisible to a motorist dazzled by low sun.  Be wary and wear clothing that makes you stand out from your surroundings.
Winter commuting usually means riding in the dark, at least one-way.  Don't even think of riding at night without a headlight!  Bright clothing and reflectors are not enough.  Some people use a flashing strobe for a headlight.  This is a good supplement to a standard headlight but not enough alone.  Follow the standard "color code":  white in front, red or orange in back.

A strobe (flashing light) on the back of the bike will help motorists notice you but is not so good at providing depth information to following drivers.  I supplement the small standard red rear reflector with both a 3″ amber SAE auto reflector that is 8-10 times brighter plus an LED strobe.  If you mount the reflector off to the side it is less likely to get caked with mud thrown up by the wheel.
I
f you are caught in the dark without lights, don't try to sneak down the sidewalk.  Walk your bike home! Reflectors and reflectorized clothing alone are not enough.  To understand why, read John Schubert's interesting explanation "Why reflectors sometimes don't work," at SheldonBrown.com
Bike Maintenance
Finally, the salt and wet grit are tough on bearings, chain and wheel rims (abrasive grit imbeds in the brake pads).  Better bikes have seals to protect wheel bearings (but re-grease in the spring).  You should lube your chain every week or so and learn how to measure the wear (sometimes incorrectly called "chain stretch").  Once a chain wears so it is about one percent longer (1/8″ on a 1-foot ruler), it will be damaging your cassette cogs.  It should be replaced before then.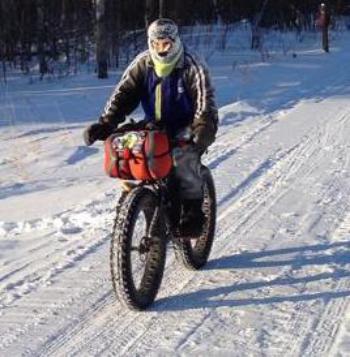 A serious bike commuter will want more than one bike to cover different situations.  You may find it useful to have:  a light road bike for fast riding in good conditions; a sturdy steed that can handle panniers to carry clothes, etc.; and a fat tire bike or a "clunker" with fenders and knobby tires for bad weather and winter.  Having more than one bike saves you from being late for work if you find a flat tire or other mechanical problem in the morning.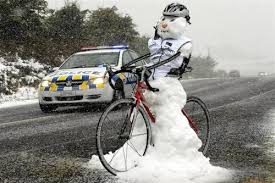 There are many benefits to winter commuting to work or just to run errands.  One of the biggest is maintaining fitness year 'round.  You no longer have to "get in shape" in the spring.  You experience the delight of spinning past frost covered trees on a crisp winter morning.  And it is fun to tell your shivering co-workers and friends how hot you got on that bitter, cold day.
Fred Oswald, is a certified "League Cycling Instructor" and a professional engineer in Ohio.