by John Brown, HaveFunBiking.com
Wearing a cycling jersey isn't a requirement for riding a bike, but wearing a jersey does make for a more comfortable ride. What's so special about a cycling jersey? The answer is in its material, the fit and the features.
Cycling jersey material
Cycling jerseys are made from moisture moving fabrics that pull perspiration off your body. Once off your body the moisture evaporates quickly, keeping you dry. By keeping you dry a cycling jersey will keep you cooler in warm temperatures. In the case of fall and spring riding, long sleeve Jerseys are built to both move moisture and insulate. Cool weather jerseys will keep you warm and dry.
The Fit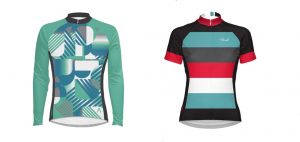 Cycling jerseys are cut to follow the natural lines of your body while riding. They use grippers around the waist and sleeves to stay in place as you move around the bicycle. Long sleeve jerseys will actually have longer sleeves than normal clothes, those sleeves will maintain coverage even as you reach out to hold the bars.
The Features
Many jerseys have pockets to help you carry things like food, phones, or tools. If you are a fan of listening to music as you ride, a lot of Jerseys also incorporate ports that let you run earbuds inside the jersey rather than having them flap around in the wind. For safety, Many jerseys include some reflective features making you more visible while out on the road.
Finding the Right Size and Fit
Some may be wary of wearing a cycling jersey, because they've only seen the tight ones that look as though they were made out of spandex. Well, times have changed, and there are now many styles and materials to choose from. Looser, Jerseys offer the same moisture wicking material, cycling cut, and features without the form fit look.
When trying on a jersey, consider a few things:
When standing bolt upright, the jersey will feel short in the front and long in the back. It's important to lean over a bit and try to replicate your cycling position (try putting your hands on your knees). If the jersey still feels too short or long, then look for a new size or fit.
Costs will vary widely based on the material and complexity of the construction. From synthetic fibers to natural ones with every combination in between, jerseys use different materials to create something that is both functional and comfortable.
Keep these tips in mind when looking for the jersey that's right for you. With hundreds of brands and thousands of styles to choose from, you are sure to find something that you love.