by John Brown, HaveFunBiking.com
It was impossible to miss the Sealskinz booth at Interbike this year. There in the center of the exhibit was a huge tub of water with a woman standing in the middle wearing nothing on her feet but socks! When I asked if her feet were wet or cold, she responded casually "nope, I've been standing here for an hour and my feet are still dry and warm." I was intrigued, but not convinced, because I couldn't help but think "how could it be soft and waterproof"? Well, fast forward a few weeks and I am happy to say that Sealskinz recently sent us a care package of products right in time for winter. Take a look for details on the Super Thin Pro Socks.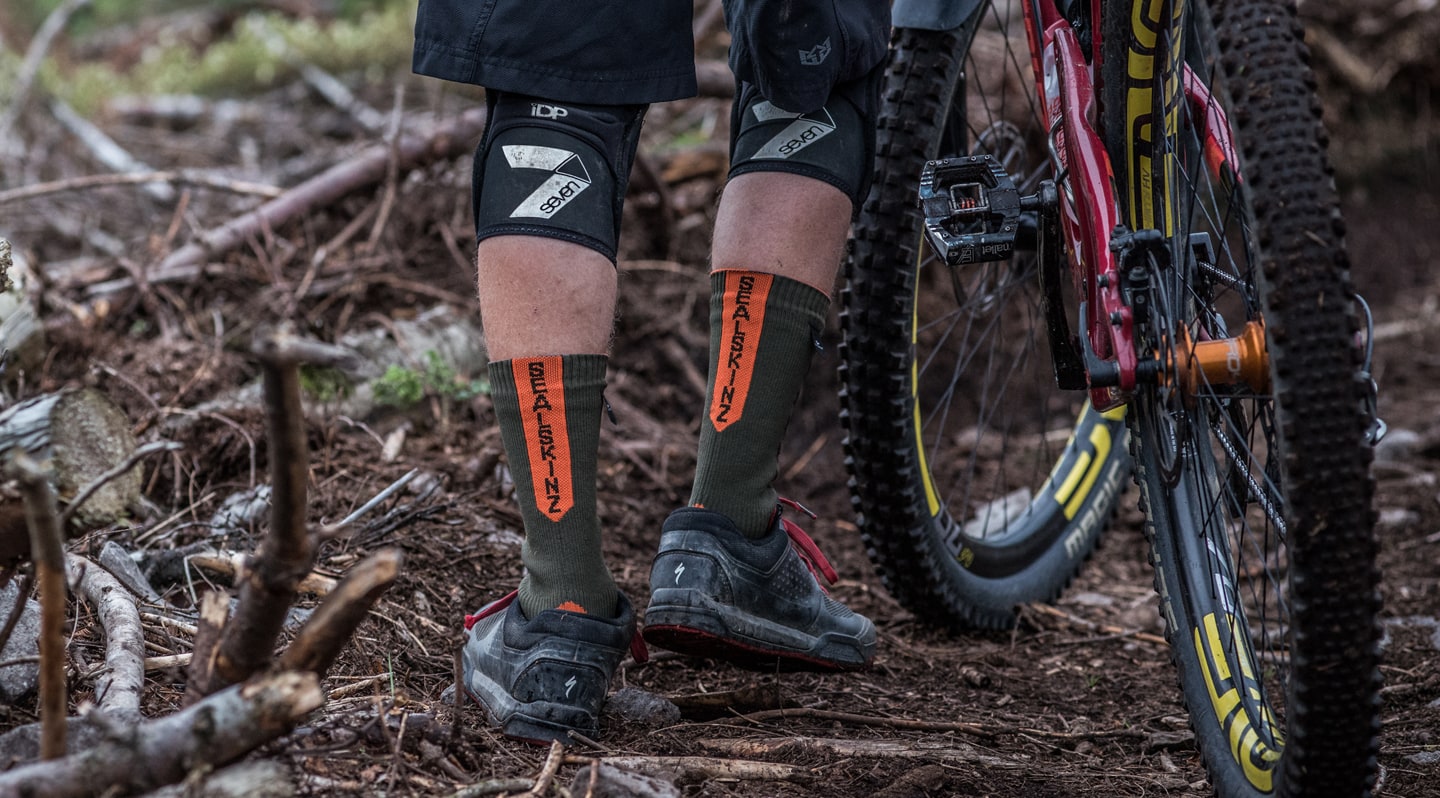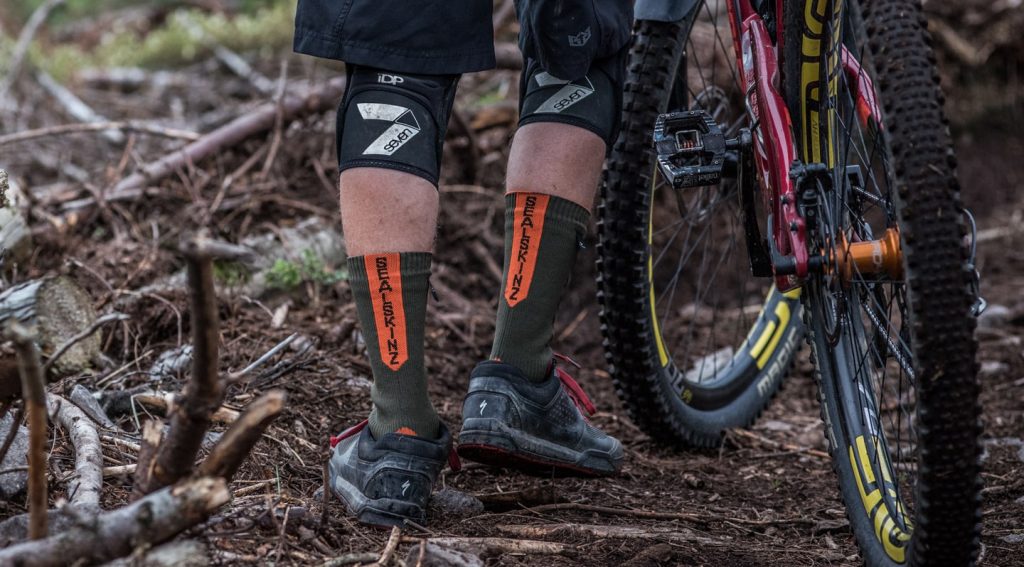 Sealskinz socks construction
The Sealskinz' seminal product was a waterproof, insulated sock designed for the rigors of wet English winters. We received SealSkinz' new Super Thin Pro sock. The great thing about this sock is it retains all the waterproof and insulating properties of their exiting socks with a third less weight and bulk. To achieve a lighter sock, Sealskinz employed a new knit pattern for the outer layer and bamboo fiber for the insulation layer. Because a sock has a huge hole in the top of it to accept your foot, they cant be 100% waterproof. What Sealskinz does to combat water coming in from the top of the sock, is to employ a silicon band along the inner cuff of the sock. It rests against the skin and seals off most of the water that would normally migrate down into your sock.
How they fit
Immediately upon putting them on I could feel the liner embedded in the fabric. Why they feel different is the waterproof membrane gives the socks a structure that is more substantial than your normal socks. The fabric bonded on the inside and outside of membrane is really soft to the touch and comfortable on your skin. I did have a concern that the socks would not be able to stretch and flex enough to conform to my feet, but I was proven wrong, again. nearly immediately. Also, I had concerns about the silicon cuff. On many cycling shorts with "grippers" at the bottom of the leg cuff can be uncomfortable. I am happy to report that I never felt any discomfort with the Sealskinz cuff.
Socks in the real world
Although I haven't had a ton of time to ride these socks, I did have an exceptional first experience. My commute to work is about 40 minutes through the rolling terrain of the Twin Cities suburbs. The day I received the socks was just under 30 degrees and spitting a rain/snow mix. I left for work wearing my standard cycling shoes and a good quality wool cycling sock. In those conditions, I arrived at the office with numb toes that when thawed, hurt a ton. Fast forward to the end of the day, where conditions were exactly the same as the morning, yeah! (More freezing temps and rain). In the evening, I wore that Super Thin Pro Sock instead of my wool sock. In contrast to my ride in, by the time I got home, my feet were still nice and toasty. To clarify, I rode 40 minutes in rain/snow mix and 30 degrees with my feet warm and cozy.
Additional testing
So the Super Thin Pro Sock has passed all my initial tests. However, I'm not done yet. So over the next few weeks, I will test them again. As Minnesota's temperatures continue to drop I plan to find the lowest temp these socks will work on my feet. Additionally, I have gloves and booties from Sealskinz that will be subjected to the worst Minnesota has to dish out. Stay tuned for more!