One of the most intimidating situations in mountain biking is riding rocks. Places like the east coast have football field long gardens of granite that appear impossible to traverse by bike. Although they might appear impossible, just a few tips and some regular practice will have you zipping through rock gardens as if they were paved.
Look ahead
While picking your way through rock gardens, always look ahead. By "look ahead" I mean focus on points down the trail ahead rather than the rocks below your front wheel. By focusing ahead, you will naturally keep moving forward rather than getting hung up. Looking ahead also helps you prepare for what's coming next.
Sections
Another great benefit from looking ahead, is that it allows you to plan how to attack the rocks in sections. By breaking difficult sections into manageable pieces, you can recognize a difficult rock 20 ft down the trail and choose a line that positions you for the best approach. The best way to plan a section out is to look at the approach, the obstacle, and the exit as a single section. In the approach, find the smoothest lead up to the difficult obstacle. Also, think about how to traverse the obstacle in advance and be aware of what the exit looks like. By planning the exit, you can maintain momentum after the obstacle and quickly attack the next section.
Keep it loose
As your bike bounces off and over rocks, it's easy to lose your balance. The best way to maintain your position is to be as loose on the bike as possible. You do this by riding with your arms and knees bent and your rear off the saddle. This can feel very unnatural at first to pedal with bent knees, but it helps absorb the shock from rocks as you pass over them.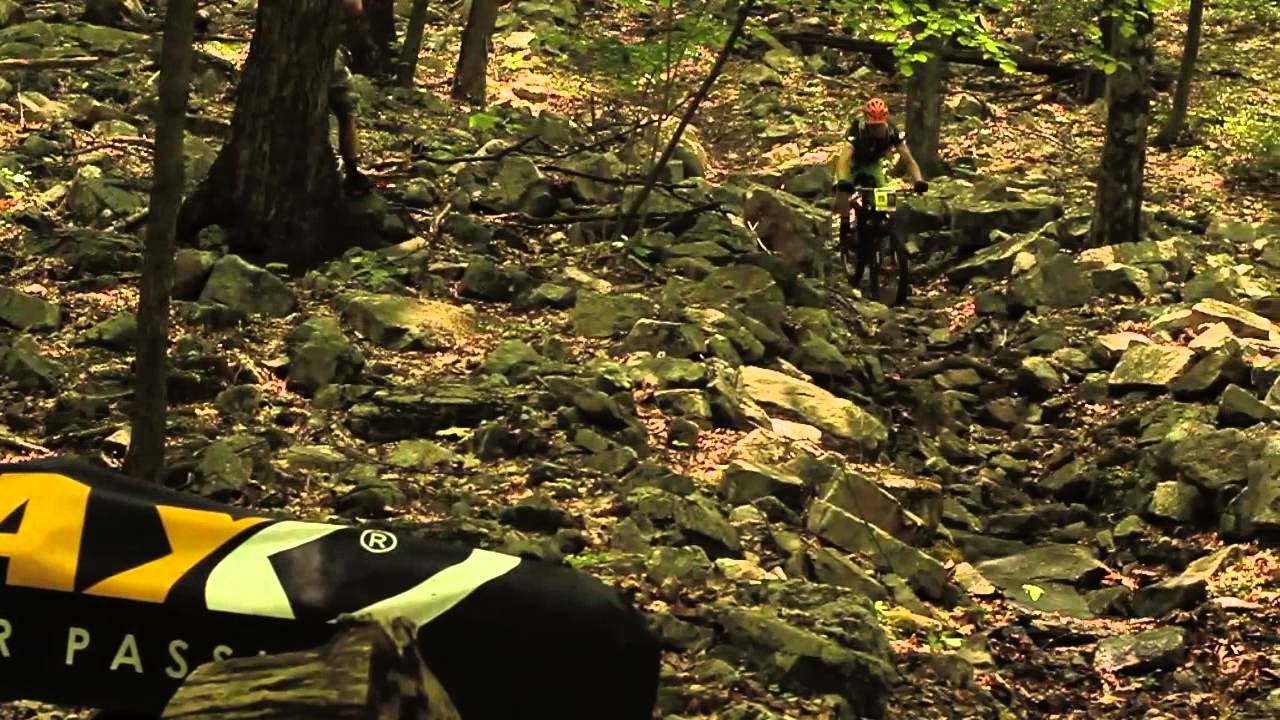 Over not under
It's better to go over rocks than down in between them. The reason is, you can navigate down and off a rock with ease. By contrast, navigating up and out of between rocks takes a lot more effort and force. Speed also helps you stay on top of the rocks. With a little speed, your tires will ski across the tops of rocks rather than dip down into them.
Gearing and pedal strike
Life through a rock garden would be easier if you didn't need to pedal. Pedaling moves your weight around at the very time when you are trying to maintain your balance. To help maintain your balance while pedaling pick your gear carefully. The right gear will give you enough torque to get over rocks, while still being difficult enough to push to offer resistance and aid in balance. If the bike seems to jerk forward with very little effort, you should shift into a more difficult gear. By contrast, if you can hardly get any momentum going because the pedals are so hard to push, try dropping down a few gears. Additionally, as you pedal, pay close attention to where rocks are and where your pedals are going. Banging your pedal off a rock is a quick way to lose balance. If you need to pedal, but are in fear of hitting a rock, consider pedaling only 1/4 turn, backpedaling, then pedaling again.
Little bits at a time
You shouldn't expect to be able to clean every rocky section on your first attempt. Even highly experienced riders still have trouble on new sections. Above all else, ride within your abilities, trying new sections a bit at a time.