If you missed the annual 'Festival in the Park' celebration, with bike races, last weekend in Mounds View, MN, this Twin Cities Gateway community is still worth checking out. Here, you will find a great mix of busy and calm. Where you can ride your bike along creekside trails to visit attractions amongst mother nature. Many who visit here enjoy following the natural settings along Rice Creek and the trail near it. Another option, are the bike friendly roads to expand your coverage for more adventure – And you can start, right from your Twin Cities Gateway hotel.
Rice Creek North Regional Trail
Mounds View is one of the many places that gives you access to the Rice Creek North Regional Trail with the Rice Creek North Regional Trail Corridor. The Rice Creek North Regional Trail is located in the Southeast quadrant of Anoka County [see map].
The trail provides a connection between Anoka and Ramsey counties and connects the Cities of Blaine, Shoreview and Lino Lakes. A unique feature of the trail the 8-10 foot wide paved trail passing towering trees and the creek (bearing the same name) underneath crossing quaint wooden bridges along the way.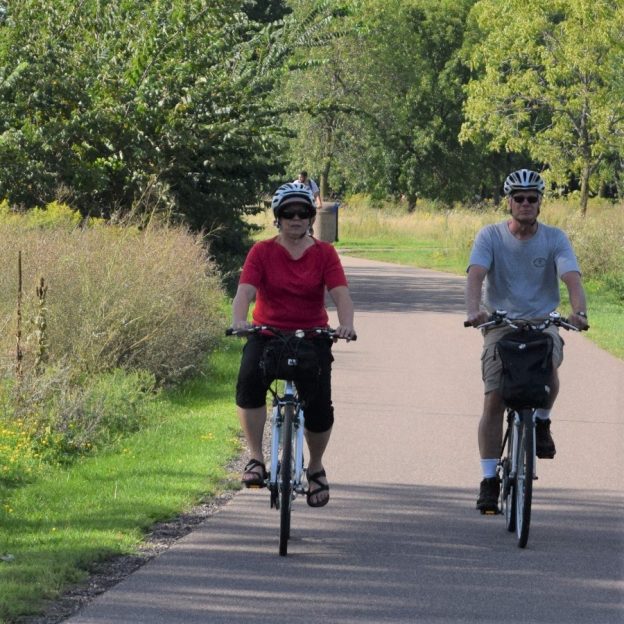 There are also several different landscapes passing through wooded areas where trail users can occasionally see whitetail deer. Then wandering through open meadows the trail greets users with array of natural flower and songbirds. Further along, cyclist will circle several low land marshy areas where it is easy to view many species of waterfall gathering for the fall migration. On the north end of the trail, one can witness prairie restoration.
A part of Minnesota's Community, located on the northside of the Twin Cities it is easy to find your next bike adventure with a mix of mother nature, near your lodging choice when visiting the area.