by John Brown, HaveFunBiking.com
Trail bikes, fitness bikes, hybrids bikes, and dual sport bikes all fall into the same category of bike. Although these bikes all occupy the same category, they have very different uses. Read on to find out what bike will fit your needs best.
Before Buying One Of Many Hybrid Bikes, Determine Where You Want to Ride
Hybrid Bikes for Road Riding
Paved surfaces are more inviting to cyclists than ever before thanks to bicycle conscience city planners and influential cycling groups. Bike lanes on city roads, bike paths on retired rail lines, and dedicated cycling trails are just a few of the options open for paved riding. Because of these options, there are many bicycles available for paved riding specifically.
Hybrid Bikes for Path/Trail Riding
By far, path and trail riders are the largest segment of casual cyclists. This is due to the vast availability of riding options. Due to the fact that there are tons of options, these bikes are designed to ride comfortably and efficiently through almost anything.   
Hybrid Bikes for Off-Road Riding
A newly emerging category is casual off road riding. For this reason, many bicycle manufacturers have developed products to allow riders to enjoy trails comfortably. These bikes are similar to path/trail bikes, but usually include tires with more knobs and suspension.
How frequently do you plan on riding?
The cost of a bicycle can range from around $300 up into the tens of thousands of dollars. The most basic models use less durable materials like plastics rather than metals in the shifting components, and mild steel rather than stronger alloys for the drivetrain and cockpit. As the prices increase, stronger materials replace less durable materials, lending to a bicycle that will hold up better for frequent use. Consequently, at a certain price (different for every category of bicycle), the durability doesn't increase. Instead, the weight begins to decrease. A lighter bicycle is easier to control and accelerate (making for a more enjoyable ride). Determining how frequently you intend to ride and weighing that against the bikes you are looking at will ensure you get the right bike for your needs.
Bike Features
Disc brakes vs. rim brakes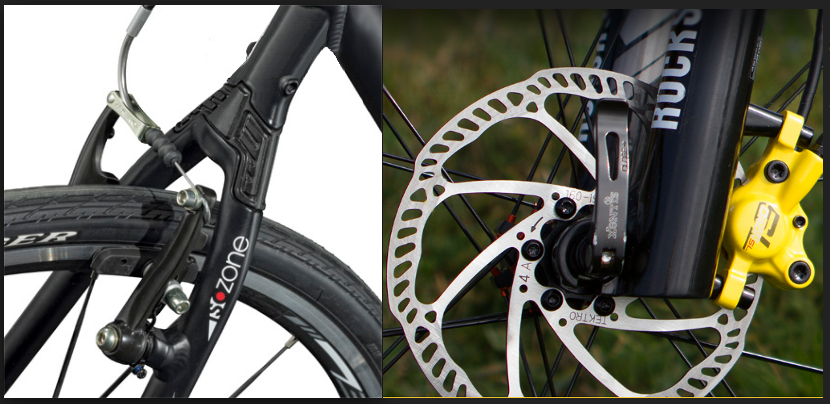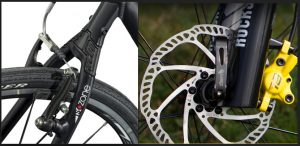 Rim brakes work by two rubber pads squeezing the aluminum rim of your wheel. They are inexpensive, functional, and lightweight. When conditions are good, they work incredibly well. Disc brakes use hardened semi-metallic pads to squeeze a hardened steel rotor. Disc brakes produce an enormous amount of friction, and that friction can overcome poor conditions. To summarize, both brakes work, but disc brakes work better in poor conditions.
Suspension vs. no suspension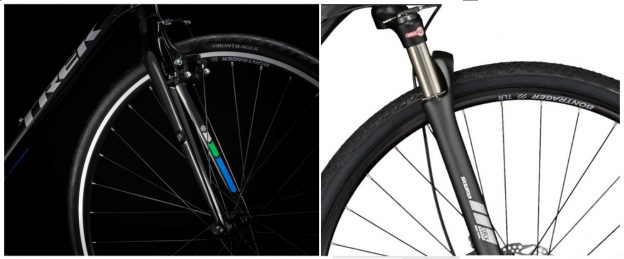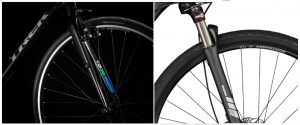 Bikes that go off road typically use suspension forks to silence the chatter of gravel paths, dirt roads, and trails. Bikes with rigid forks tend to handle better because they are laterally stiffer and end up being lighter due to the lack of moving parts.
Wheel size
In this category, you will find smaller wheels and larger ones. The smaller wheels are usually 26" in diameter and around 2 inches wide. The larger wheels are sized out at 700 c (roughly 28″ in diameter) and usually are between 28 and 42 millimeters wide.
Differences
Once you have figured out where and how often you want to ride, and you learned about some of the features, it's time to learn about the differences in the bikes.
Hybrid Bikes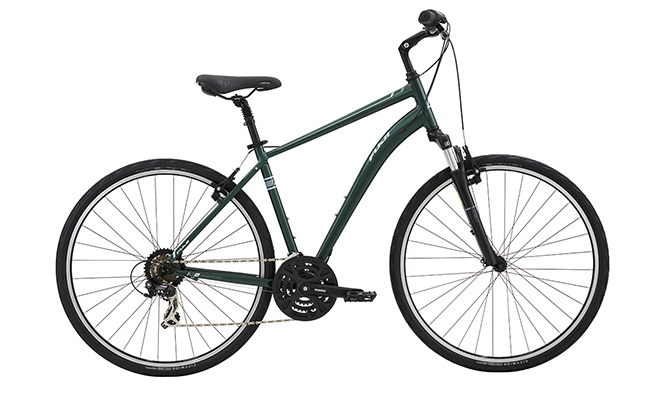 Hybrid bicycles at one point were the only bike in this category. They get their names from the fact that they were initially a hybrid of a mountain and road bike. Today, a hybrid is a great bike for fun and fitness. They usually incorporate suspension forks to smooth out the road. Most types use a tire that is 30-40 mm wide and well suited to gravel roads, rails to trails, or paved roads. If you are looking for the most comfortable ride across the largest segment of conditions, a hybrid is the right choice for you.
Fitness bikes
Fitness bikes share a lot of features with hybrids. They have similar wheel sizes, riding positions and gearing. Where they differ is that hybrids incorporate a lot of features to add comfort, while fitness bikes focus on efficiency and being light weight. If you are the type of rider who wants to get a great workout and enjoy your neighborhood or local bike path, a fitness bike is the right choice.
Dual Sport bikes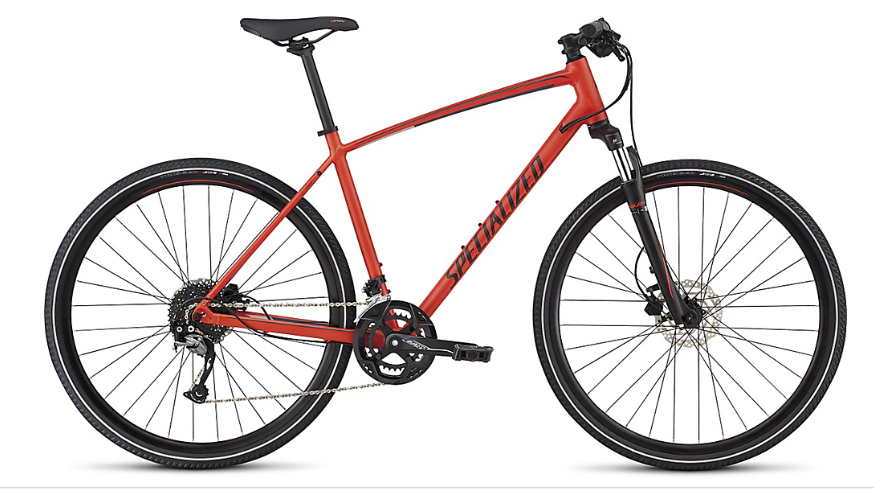 Dual sport bikes are a new and quickly growing segment of this category. The Dual sport bike is similar to the hybrid, in that it uses suspension. Where it differs from a hybrid is that they are designed for off road use. By changing the rider position, incorporating wider tires, and using disc brakes, these bikes excel on bike trails that are a bit more technical. If your adventure takes you off the beaten path, dual sport bikes are the tool of choice.
How to Choose
Paramount to buying the right bike is trying them. Start with a bike that fits you correctly. Take it for good 10-15 minute ride to see how it handles. Ride it on hills and on some path if possible. Next try some other models that use different features. Test riding will quickly highlight the benefits of disc brakes, suspension, and tire sizes. Once you feel comfortable on a few bikes, try them back to back and figure out which is the right fit for you.