At A Glance: Exploring Lakeville – Fun and Food
On the southern edge of the Twin Cities attractions, Lakeville is a family-friendly mecca for bicycling. Offering miles of paved trails, three fun mountain bike areas, and several great road routes, both visitors and residents alike will find plenty of safe bike riding opportunities here. And when not riding, you will find many attractions to add to your adventure,
Where to Bike in Lakeville
Along with the many bike-friendly streets running through the neighborhoods and businesses around Lakeville (displayed in the map links below) you and your family will find many safe recreational trails to enjoy as you cruise around. The paved trails running along the boulevards and through several picturesque neighborhoods offer many options for commuting by bike to local attractions, businesses, and parks here. For those interested in mountain biking enjoy West Lake Marion Park, Buck Hill, Lebanon Hills, and Murphy Hanrehan are all just a short distance away from your Lakeville hotel room.
Available Lakeville Maps
HaveFunBiking's Area Map 
Lakeville City Trail  Map
Road Routes Map
Lebanon Hills Trails (Mountain Biking)
Murphy-Hanrehan Park Reserve (Mountain Biking)
Walk/Hiking Opportunities
Ritter Farm Park is also available for your enjoyment along with the trails listed above.
Area Bike Shops and Clubs
Valley Bike & Ski | 7707 149th St. W., Apple Valley, MN 55124 | 952-432-1666
Lakeville Cycling Association| Support year-round cycling in and around Lakeville.
Hiawatha Bicycling Club
Where to play when not biking in Lakeville
Along with being mere minutes away from all that the Twin Cities has to offer, Lakeville has many attractions to keep everyone entertained.
Lakeville Area Art Center – a great place to take art classes or catch a performance | 20965 Holyoke Ave., Lakeville, MN 55044 | 952-985-4640
Furever Wild – a working agricultural farm that allows you to interact with all kinds of animals from calves to wolf pups | 10132 235th St. W., Lakeville, MN 55044 | 612-467-9653
MN Pro Paintball – the largest paintball park in Minnesota with 15 different battlefields to choose from | 22554 Texas Ave., Lakeville, MN 55044 | 952-892-1540
Lakeville Beaches – choose from one of these beaches to spend the day swimming, play horseshoes or volleyball, and enjoy a picnic | 952-985-4600
Where to Eat
From Mainstreet Coffee and Wine Bar to the Copper River Fish & Chop House, Lakeville has several interesting and charming cafes.
Harry's Café – fresh food made from scratch whenever possible with aviation décor paying tribute to owner's father, a WWII Navy Pilot Veteran |  Menu | 20790 Keokuk Ave. S., Lakeville, MN 55044 | 952-469-5696 
Mainstreet Coffee & Wine Bar – this restaurant has sandwiches, wraps, and flatbread with many wines to suit each meal selection | Menu | 20790 Holyoke Ave., Lakeville, MN 55044 | 952-985-7650
Chart House – on the shores of Lake Kingsley, Chart House has your favorite American dishes and a renowned Sunday Brunch | Menu | 11287 Klamath Trail, Lakeville, MN 55044 | 952-435-7156
Babe's Music Bar – fun-filled bar with your favorite entrees along with activities such as water pong tournaments and live music | Menu | 20685 Holyoke Ave. S., Lakeview, MN 55044 | 952-469-5200
See a complete listing is here.
Where to Sleep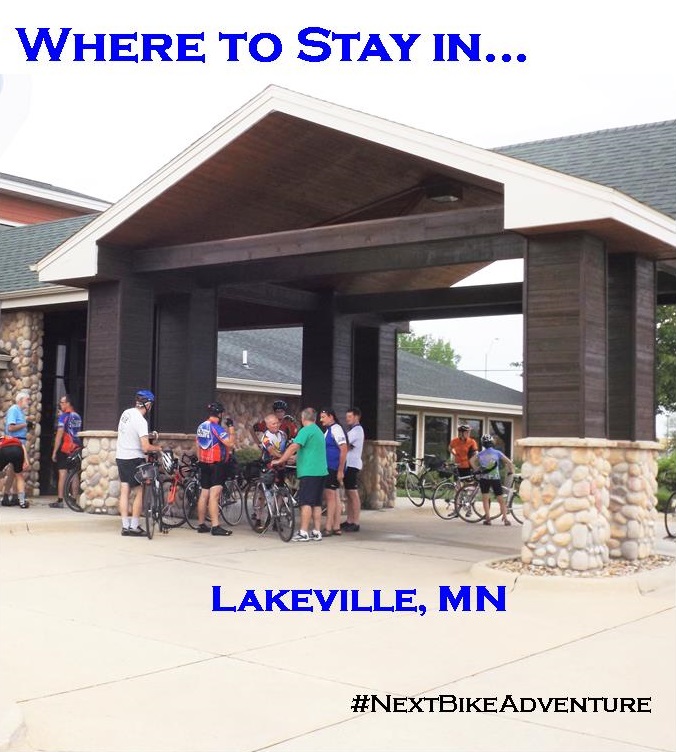 Candlewood Suites – Exit 81
Hampton Inn – Exit 81
Holiday Inn & Suites – Exit 81
Motel 6 – Exit 81
Baymont In & Suites – Exit 85  
Quality Inn – Exit 85
Public Wi-Fi Spots Lakeville
Along with most hotels, many coffee shops and restaurants have Wi-Fi available. A public library is also a good option, and Heritage Library is located at 20085 Heritage Dr., Lakeville, MN 55044. They can be contacted at 952-891-0360.
See the Lakeville Tourism Bureau for more detailed information or #visitlakeville.