At a Glance: Exploring Mankato – Fun and Food
As the Minnesota River bends to the North and the Sakata Singing State Bike Trail approaches from the East, the scenic river valley in and around the area offers miles of biking and hiking adventures. With all of this safe and gorgeous nature, exploring Mankato is fun and memorable.
For the trail rider, there are over 50 miles of family-friendly paved trail. Road touring enthusiasts will find a network of suggested routes offering wide shoulders and little traffic.
With the work of a devoted group of local mountain bikers, the area continues to grow as a premier off-road biking destination.  Here there is a relaxing setting to bike with family and friends while enjoying all that the area has to offer.
Where to Bike in the Area
Being a designated a bike-friendly community, by the League of American Cyclists, you will find riding the streets and roads here safe and relaxing. There are also miles of paved trails nestled in the scenic river valley. With the Red Jacket Trail connecting to the West from Minneopa Falls and State Park, bikers and walkers alike will enjoy a new form of public art along the trails. Something new to Mankato is the Poetry Walk and Ride. Along the miles of trails and in the parks of the City, poetry signs display creative verses that compliment the nature you can see along the way. Thanks to the efforts of the Area Mountain Bikers (MAMB), there are currently five areas for off-road biking enthusiasts.
Available Maps for the Area
HaveFunBiking Mankato Area Map
Mankato City Bike Map 
Mankato Bike Loops 
Mankato Bike Trails 
Crystal Lake Loop
North Mankato Loop
St. Clair/Eagle Lake Loop
St. Clair, Smiths Mill, Madison Lake Loop
North Gravel Ride
Multi Use Trails
Red Jacket Trail
Minneopa State Park
Sakatah Singing State Trail Map
Indian Lake Conservation Area
Mountain Biking Trails
7 Mile Creek Trail
Mount Kato
Kiwanis Recreation Area
Ft. LeHillier Trail
Walk/Hiking Opportunities
Area Bike Shops and Clubs
Key City Bike | 1429 N. Riverfront Dr., Mankato, MN 56001 | 507-304-1936
Flying Penguin Outdoor Sports | 624 N Victory Dr., Mankato, MN 56001 | 507-345-4754
Nicollet Bike Shop | 607 N. Riverfront Dr., Mankato, MN 56001 | 507-388-9390
Scheels | 1850 Adams St. #404 (River Hills Mall), Mankato, MN 56001 | 507-386-7767
Mankato Area Mountain Bikers
Envision2020 – bike/walk advocates
Where to Play
The city offers a variety entertainment for the whole family!
Children's Museum of Southern Minnesota – Clinic Tree of Forts Climber, Grow it Gallery, and Coughlan Quarry are just of few of their exhibits | 224 Lamm St., Mankato, MN 56001 | 507-386-0279
WOW! Zone – Laser Tag, Arcade Games, Bowling, etc. | 2030 Adams Street, Mankato, MN 56001 | 507-625-269
Old Town Escape – use your critical thinking skills to solve the mystery and escape the room | 403 N. Riverfront Dr., Mankato, MN 56001 | 507-779-7799
And more!
Learn more about the events in the area here.
Where to Eat
From the Blue Bricks Bar and Eatery to Charley's Restaurant, one of the finest in the area, the city offers several interesting and charming cafes, coffee, and ice cream shops ideally suited to a cyclist's taste. Here's just a taste of some of the local restaurants.
Happy Chef – the original Happy Chef location allows you to get a bite to eat and take picture with one of the few remaining Happy Chef statues | 51646 US-169, Mankato, MN 56001| 507-388-2953
Tandem Bagels – the coffee shop and cafe has a variety of options including bagels made from scratch and they have bike racks! | Menu | 200 E. Walnut St., Mankato, MN 56001 | 507-720-6533
Mom & Pop's Ice Cream Shop – they have over 30 unique flavors of ice cream including dairy free options | 629 N. Riverfront Dr., Mankato, MN 56001 | 507-344-0629
Check here for a complete list of more places to grab a bite!
Where to Sleep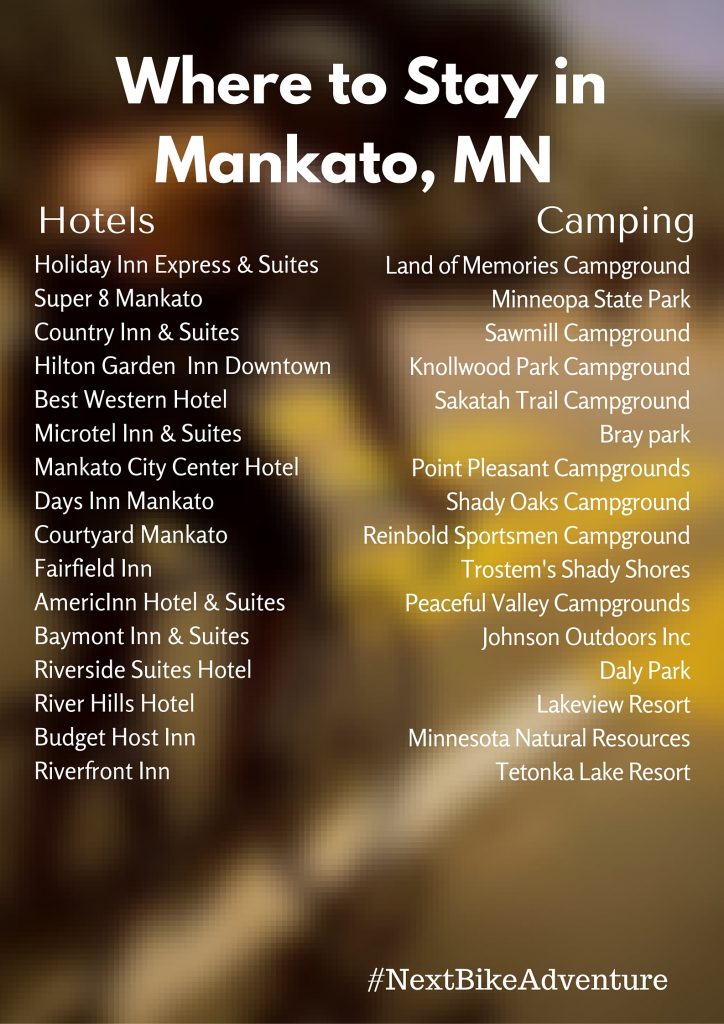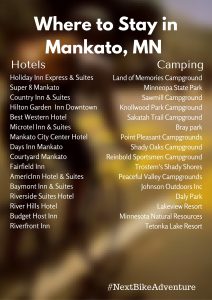 Check out these links for more information:
Hotels
Bed & Breakfasts
Minneopa State Park Camping
Public Wi-Fi Spots in the Area
Along with most hotels,  many coffee shops and restaurants have Wi-Fi availability. Mankato has three public libraries that are also good options.
Blue Earth County Library located at 100 E. Main St, Mankato, MN 56001 | 507-304-4001
North Mankato Taylor Library located at 1001 Belgrade Ave. North, Mankato, MN 56001 | 507-345-5120
Traverse Des Sioux Library located at 1400 Madison Ave., Mankato, MN 56001 | 507-625-6169
See the Mankato Tourism Bureau for more detailed information.
Getting to Mankato
Located in Southern Minnesota, the city is approximately an hour and half drive Southwest on U.S. Highway 169, from the Minneapolis/St. Paul Airport (MSP).  From Interstate 90, at Blue Earth, it is a half hour drive north on Highway 169.  The Regional Airport is conveniently located north of town allowing visitors an opportunity to catch connecting flights to and from MSP and other parts of the country.