At A Glance: Exploring Winona – Fun and Food
With scenic roads meandering in and out of the bluffs and trails that wind through hardwood forests, adventure-seekers and novices alike will find the Winona area a great place to come and ride. When not bicycling or hiking, the mighty Mississippi River beckons paddlers, boaters, and swimmers with its wide channels, intimate backwaters, and sunny beaches, Overall, it is a great place to cool off. As the sun drops down over Sugar Loaf Bluff, savor a great meal and raise your glass to all Winona has to offer.
Where to Bike
The river valleys offer flat terrain, gently rolling hills ,and spectacular views of rivers and bluffs. Steep bluffs challenge those looking for a more vigorous adventure. Over a hundred miles of trails wind along the lakes, streams, woods and fields. In town, enjoy the family-friendly paved trail running along Lake Winona.  For the touring cyclist, ride along the Mississippi River Trail and enjoy low traffic route loops with mileage options to meet your desires. There are many off-road trails with vista views and technical challenges for those looking for an adrenaline rush.
Available Maps
HaveFunBiking Winona Map
Holzinger Lodge Trail
Winona Bike Loops
Mountain Biking Area Maps
Bronk Management Unit
Trout Valley Management Unit
City of Winona Parks and Facilities
Mississippi River Trail
Walk/Hiking Opportunities
Tourism Bureau
John A. Latsch State Park
Great River Bluffs State Park
Snake Creek Management Unit
Kruger Forest Management Unit
Bronk Management Unit
Trout Valley Management Unit
City of Winona Parks and Facilities
Area Bike Shops and Clubs 
Adventure Cycle & Ski | 178 Center St., Winona, MN 55987 | 507-452-4228
Kolter Bicycle & Fitness Inc | 400 Mankato Ave., Winona, MN 55987 | 507-452-5665
Winona Area Mountain Bikers
Winona Park & Rec Programs
Where to Play When Not Biking or Hiking
Winona offers many activities from countless picturesque views to historic museums and everything in between.
Winona Tour Boat – Explore the area's beauty while learning about the area and seeing the local wildlife | 1 Walnut Street, Winona, MN 55987 | 507-458-2842
Minnesota Marine Art Museum https://www.mmam.org/ – Home to major artists such as Monet, Homer, Picasso, and so many more | 800 Riverview Dr., Winona, MN 55987 | 507-474-6626
Watkins Museum & Shop – The free museum allows you to look into the beginnings of the beloved J.R. Watkins products and has a shop where you can choose from over 300 of those products | 150 Liberty Street, Winona, MN 55987 | 507-457-6095
Winona National Bank – More than your ordinary bank, this is a historical destination where you can see the trophies of the original owners, the original vault, and the Tiffany stained-glass windows | West Location: 1491 West Broadway | Downtown Location: 204 Main Street | East Location: 840 Mankato Ave. | 507-454-8800
Where to Eat
From several bakeries offering the nationally-acclaimed maple long johns to the popular Boathouse,  this area offers several interesting and charming cafes, coffee shops, and ice cream shops ideally suited to a cyclist's taste. For the most up to date listing click here.
Here are just a few of the places to eat in Winona:
Lakeview Drive Inn – True to its name, this family owned restaurant gives you a fantastic view of the lake while serving fresh, delicious food and homemade Root Beer | Menu | 610 East Sarnia St., Winona, MN 55987  | 507-454-3723
Jefferson's Pub & Grill – All your favorite classics in this renovated railway Freight House | Menu | 58 Center St., Winona, MN 55987 | 507-452-2718
Winona Bread & Bagel – The perfect place to grab any of your favorite baked goods from cupcakes and cookies to hand shaped loaves of bread | 351 W. 2nd St., Winona, MN 55987 | 507-454-6787
Ed's No Name Bar – Ranked as the best place for live music from Southern Minnesota Scene Magazine, Ed's is great to grab your favorite drink or try a local brew and relax while listening to live music or play some yard games | 252 E. Third Street, Winona, MN 55987 | 507-450-1788
Where to Sleep When Visiting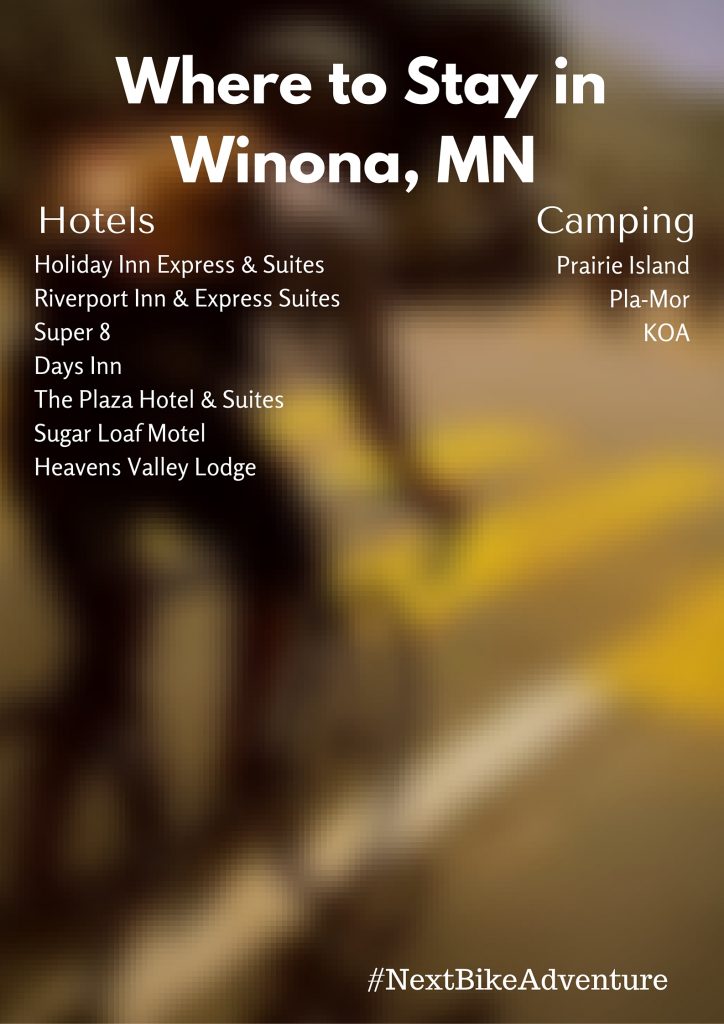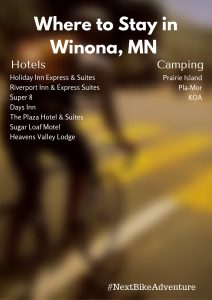 Public Wi-Fi Spots
Along with most hotels,  coffee shops and restaurants have Wi-Fi available. The public library is also good option. The Winona Public Library is located at 151 W. 5th St. in Winona and can be contacted at 507-452-4582.
See the Winona Tourism Bureau for more detailed information.