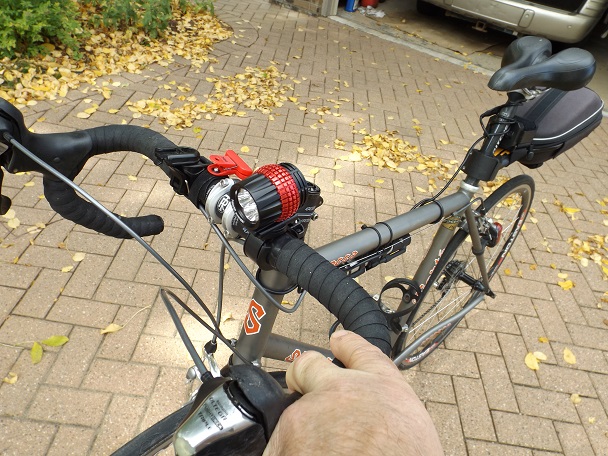 With Daylight Savings Time a thing of the past, until next spring, having a powerful bicycle headlamp can be a very important safety feature to maximize your cycling activities as the days grow shorter. Recently, here at HaveFunBiking, we were asked to review the Xeccon "Spiker 1210" Bike Light and "Geinea III" rear light. After using both of the lights in both commuting and trail riding scenarios, we found the Spiker 1210 with 1600 lumens, to the dollars invested, to a good buy.  For rear light visibility the new Geinea III also proved worthwhile to checkout.
For commuting one of our staff members with a night vision problem found the Spiker 1210's, with 1600 lumens made all the difference. The light once again, allowed her the confidence to again safely ride after dark. With four steady light modes and four more strobe (Fast/Mid/Low/SOS) settings the Cree XP-G R5 LED lens can easily help alert oncoming motorists, while giving a person a wide beam to light to see the path or lane ahead – and in the high beam mode a riders has the visibility, at night, of a full two-lane width road under normal weather conditions.
The Xeccon 1210 kit comes with several mounting options so the light can be easily mounted to a bike helmet or the handlebars of a bicycle. In all of our tests, we found it was best to use the 1210 as a bar light to project a wide light pattern in front of the bike and use a smaller lumen spot helmet light as a companion, for added visibility. The light kit also comes with a lithium battery.
The Li-ion battery that comes with the 1210 is in a well-protected waterproof 'brick' casing that is rated at 7800mAh.  At full power, (high beam) it can light up the road or trail for approximately four (4) hours. On the low beam mode setting we found the battery will last up to 12 hours. To monitor the battery level the unit has a built-in color indicator light to show you what percentage of time you have before you need to re-charge.
For mountain biking at night we found the same configuration worked well by mounting the 1210 unit on the handle bars and using a second light mounted to the helmet. This setup made maneuvering the off-road single track trails, at night, equal to riding on a dark cloudy day or near dusk/dawn conditions.  Here is a U-Tube video showing how this light preforms on a single track course at night.
Xeccon's Geinea III
This rear light has to be seen to be believed. This little beauty, the Geinea rear light will pump out 160+ real lumens of light, weighs only 23 grams, and is easy to mount and recharge. Housed in a red case this lightweight tail light has evolved to make it user friendly. Any one of the four modes (steady high, steady low, slow strobe and fast strobe) can be used in the day or night for safer visibility. Putting this rear light, side-by-side several other popular rear light models on the market we were very impressed. At night the light beacon shows the silhouette of a rider over 150 yards out and in daylight the strobe mode is eye catching.
The Geinea, has an optical lens reflector built into the aircraft-grade, waterproof aluminum casing and allows a runtime of  a little over an hour on the high-beam or it can last up to over six hours on the flash-mode. With a build-in 80mAh, USB rechargeable battery the Geinea III can be fully recharged in less than 2.5 hours using any number of electronic devices, having USB connections for charging.
Along with bicycle lights, Xeccon also makes lights for underwater diving, Here is their website http://www.cycling-lights.com/spiker_1210_cycling_light.html for more information.
Just an FYI, in the United States, Daylight Saving Time will again resume at 2 a.m. on the second Sunday in March, so a brighter light will come in handy for the next several months.