The Border Bike Ride allows all levels of cyclists the opportunity to ride on two trails, with several communities along the way. The fun begins in Riceville, in northeast Iowa, at the trailhead and welcome center of the Waspi-Great Western Line (WGWL) Trail on Saturday, August 24th. With many route options, recreational riders of all levels have several opportunities. The 56-mile route option crosses the border into Minnesota and to visit communities along the Shooting Star Trail.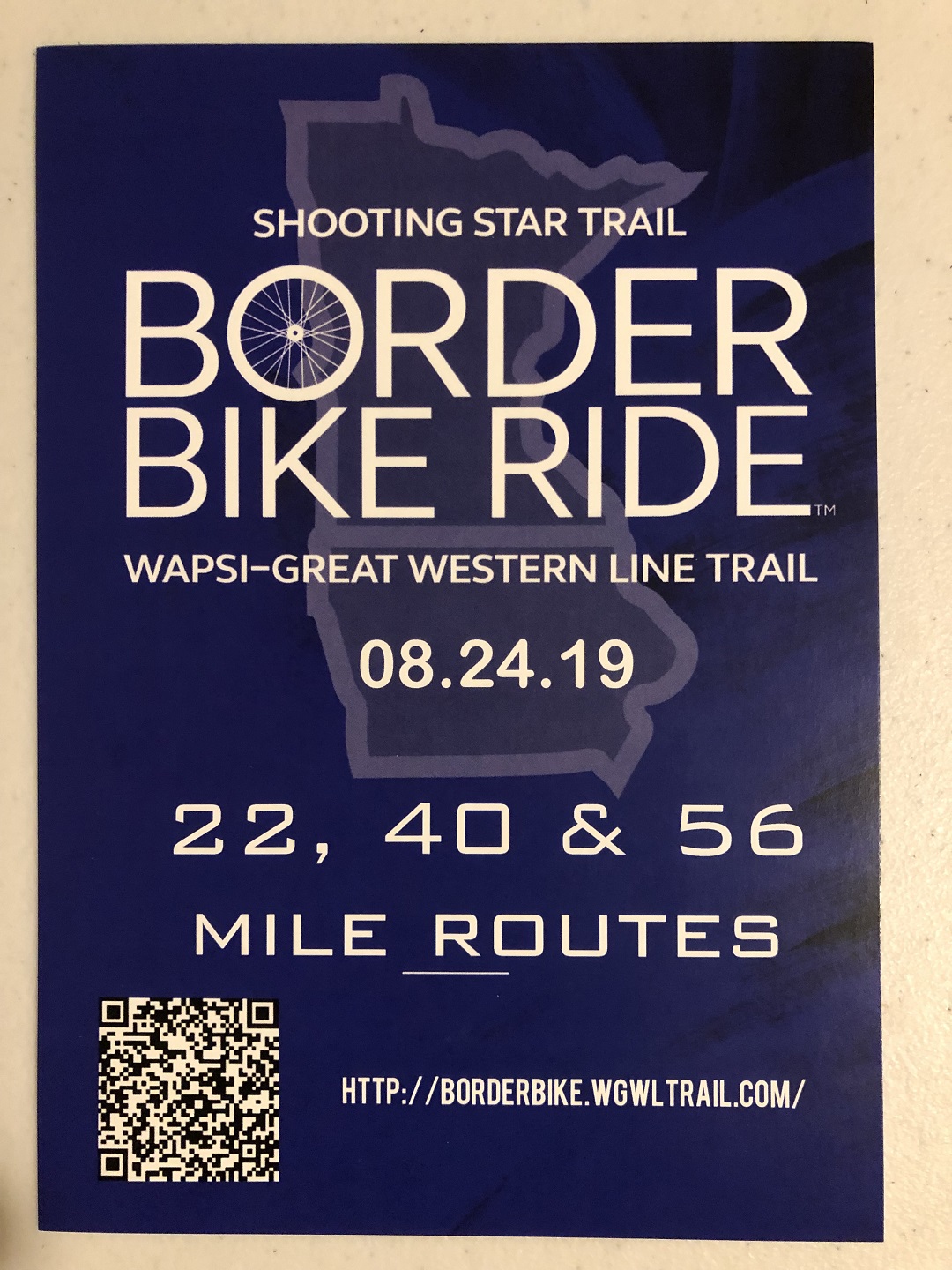 The Border Bike Ride options
A multiple bike route event with a choice of:
Two family routes (22 miles round trip, entirely on the WGWL Trail)
Intermediate Routes (40 miles or 50 miles, on WGWL Trail and county hard-surface roadways)
Advanced Route (56 miles, on WGWL Trail, Shooting Star Trail, and paved county roadways)
Ride highlights
Experience a biking environment that includes the following scenic views:
With miles of winding trail, the former WGWL railroad bed travels through the towns of Riceville and McIntire and twice crosses the Wapsipinicon River. Along the way also experience an 800-foot boardwalk that hovers over the flood plain that borders the river.
Also along the trail, take a peek at two ghost towns of the former villages of Acme and Bailey.
An added opportunity may include exploring the side trail that runs through the park next to Lake Hendricks.
As you pedal, travel next to Mennonite and Amish farms with a views dairy cows and draft horses grazing in the pasture. You will also pass by several Mennonite greenhouses that supply the area resident and visitors with flowers, fruit and vegetable products.
Seasoned cyclists on the 56-mile route will cross the border from Iowa into Minnesota with pleasant views of lady slipper flowers, Lake Louise State Park and the Upper Iowa River while riding along the Shooting Star Trail.
Some of the sweet treats along your ride
The delicious Heavenly Apples will be included with registration and served at Bailey station. Further along, enjoy homemade bars and ice cream at Lylah's Marsh from 2-5 p.m. Then upon your return, ice cream sundaes/floats will be available for purchase at WGWL Trailhead/Welcome Center, from 2-6 p.m.  With maps provided you will find further refreshments and treats available at bike sponsor stations along the routes.
Registration
Register online at https://borderbike.wgwltrail.com/. The cost is $12 to ride and $22 to ride with an event shirt.  Please note, event shirt is only available if pre-ordered by August 9th for Summer Farewell Border Bike.
Bike on your own or in a group.  Group departures from the WGWL Trailhead (110 East Main Street Riceville IA 50466) are at the quarter past the hour from 7 a.m. until 5 p.m. Shuttle available upon request.
Ride Benefits
Proceeds support the existence of the Wapsi-Great Western Line – a linear park preserving the past for the future, giving active people a safe place to run, hike and bike.