by Andrew Ellis
When you're in Lino Lakes it can feel like you're smack dab in the middle of northern Minnesota. You're pedaling down wide open roads that take you by lakes, farmland and scenery that can meet you with the horizon. Where roads with no shoulder offer trails or sidewalks that parallel the street to connect you to the vast Twin Cities Gateway trail system for your #nextbikeadventure. Enjoy the many options, including the Blue Heron Celebration in August, when visiting Lino Lakes:
Rice Creek Chain of Lakes Park Reserve
Easy to get to by bike from your hotel, an entire day here won't be enough. The Park Reserve here offers seven lakes to make for an outdoor enthusiast feel like they are in heaven. Riding or hiking the trails around these lakes, amongst the prairies landscapes offers plenty of opportunities to get you in touch with natural. When not riding, you can also rent a canoe or kayak to paddle through the chain of lakes.
Wargo Nature Center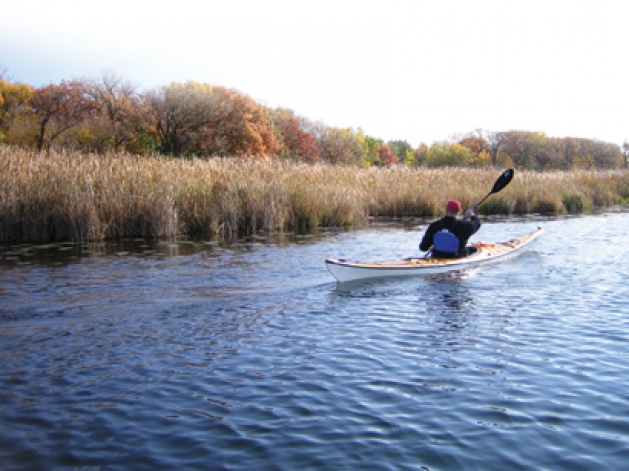 On your venture in Lino Lakes your first stop could be the Wargo Nature Center, which has plenty of programs for kids throughout the summer. After you ride down the scenic driveway, park your bike at the fish-shaped bike rack, next to the parking lot. Inside the visitors center take a look at the mapped hiking and biking routes. You can also rent a canoe here or view all the local critters that have been preserved and on display on the walls and shelves.
Walk outside and you'll see three entry ways to connecting trails that are mostly natural surface. The trails are very well maintained and wide enough to walk two abreast and pass others walking by. As you hike along you will be surrounded by the sounds and sights of nature. Along the trails you will see many kinds of trees and plants with plenty of birds chirping. You may even be lucky enough to see a little red fox ahead of you crossing the walkway.
There are also plenty of hand-drawn signs throughout the area that tell you more about the area and Minnesota's natural history dating back to before the Ice Age. You can even step up and look out into wetlands at a couple dock stations along the shoreline. If you want to explore the wetlands more, you can check out a canoe or kayak back at the visitors center.
Blue Heron Rookery
A highlight to visiting this area of the Twin Cities Gateway is the Blue Heron Rookery. It's the second largest heron rookery in the state, however it isn't the exactly easiest to get to or see. You can catch glimpses of the island if you drive by some of the lake houses on the other side of the lake, or you use a canoe or kayak to get close to it. There is a no wake zone by the island, but you should be able to get a nice view of the island using field glasses or a zoom lens on your camera. For more information on the Peltier Island heron colony, visit the Facebook page.
Relax on the Beach, Swim, Bike, and More
You can also visit the main beach on Centerville Lake and go for a swim or just relax and let those rays give you a nice tan. There is also a little playground for kids, a beach volleyball area, and picnic tables here. You will also find plenty of paved trails leading in and out of here to help you get around the area, and one of them even leads to Chonomax Golf Course. The different lakes also have various public access points for fishing and boat launches.
HammerHeart Brewery
Whether you're looking for a mid-day break or want to relax after a long day of exploring, there is nothing better than an ice cold beer at the Brewery here. Even better, the brews here are locally crafted and inspired by Norse and Celtic history, love, old world traditions. If you're lucky enough to stop by on a Saturday there's a good chance you'll be able to get food from one of the various food truck they bring in to compliment their selection of brews.
Lino Lakes' Blue Heron Days
Remember the Blue Heron Rockery? Well, by the middle of August the nests are all empty out on the island. However, the city of Lino Lakes who adopted the blue heron for their city logo many years ago has an annual event to celebrate the bird and its habitat. Perfect for the whole family the annual celebration features a parade, carnival, movie night, petting zoo, and more. This years event is scheduled for August 18, 19 & 20. For more information visit the city's website about Blue Heron Days.
A part of Minnesota's Twin Cities Gateway Community, Lino Lakes is located on the north side of Minneapolis and its easy to find your next bike adventure here.