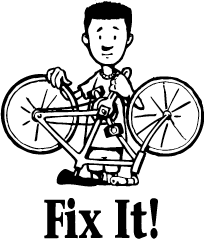 by John Brown, HaveFunBiking.com
As the mercury hovers below freezing this is the perfect time for bike maintenance to prepare your bicycle for sunnier days. There are many benefits to bringing your bike into the shop during the 'down' winter months rather than waiting for the spring season to come around.
Here in the photo above these bike maintenance shop mechanic's at Penn Cycle are waiting for your bike. While waiting they are putting bicycles together for Free Bikes 4 Kidz,
1. Bike Maintenance at the Shop 
Most shops operate on a "first in / first out" repair schedule. This means during the busy months there may be weeks of bicycles ahead of yours in line to be repaired. Bring your bicycle in during the winter to be repaired. The repair time will be the same, but the waiting list will be shorter.
2. Discounts, Deals, and More!
The fall and winter weather may discourage riders from going out, but bike shops still need to do business. In order to draw customers, bike shops sometimes offer special pricing on different services, bikes, or parts. Additionally, lots of shops offer free clinics, demos, and presentations as well!
3. Employees can Offer their Expertise and Undivided Attention
It's no secret that winter in a bike shop is slow. What better time to talk with sales people and mechanics? Need to know what bike type might work best for you? Is a fat bike right for you? Is that biking glove really better than the one you already have? If it's a question about the service or adjustments to your bike, they are likely to spend more time with you and not be rushed.
The spring and summer packs the mechanics' schedules, and their focus needs to be on completing repairs. During the winter they have much more time to spend with customers, educating them on how their bike functions.
Spring and summer for the sales staff is similar. They tend to be busy trying to attend to every customer in the shop. But in the fall and winter less people come in, so they can focus on one thing – you.
John Brown is a writer for HaveFunBiking.com.