At A Glance: Exploring Prairie Waters Area – Fun and Food
In an area where the prairie meets in the Upper Minnesota River Valley, you can relax, kick back, and enjoy this serene grassland area with wild flowers as you bike alongside the meandering rivers and streams. While pedaling, indulge yourself in the rich ethnic and culture heritage of the Prairie Waters Area. While visiting enjoy popular bike routes on low traffic roads in the counties of: Chippewa, Lac Qui Parle, Swift, and Yellow Medicine. And, after pedaling through the countryside with family and friends, enjoy the kick back experience and fun offered in several of the Prairie Waters communities here.
Where to Bike in the Area
There are miles of country back roads in the region with a variety of scenery and terrain. Bike around Lac qui Parle Lake or travel on the Minnesota River Valley National Scenic Byway roads. Here, in this three county area, many of the route loops allow you to ride past wildlife refuges and parks for bird viewing and historic points of interest. You can do all of this while meandering through the rolling countryside, which consists of farm fields, wooded areas, marshes, and rivers between the towns of Montevideo and Ortonville.
The back roads between the two communities are quiet and perfect for biking. In Montevideo and the four state parks in the Prairie Waters Area (Big Stone, Lac qui Parle, Monson, and Upper Sioux Agency) you will find paved trails. Plus, in Big Stone National Wildlife Refuge, leading out of Ortonville, you will find a paved trail and additional trails for mountain biking.
Available Maps for the Area
HaveFunBiking Map
Lac Qui Parle Co. Roads
Swift Co. Roads
Walk/Hiking Opportunities 
Upper Souix Agency State Park
Area Bike Shops and Clubs
Midtown Bicycle | 301 N. 1st Street, Montevideo, MN 56265 | 320-269-9383
Where to Play When Not Biking or Hiking 
Montevideo
Lagoon Park | 103 Canton Avenue, Montevideo, MN 56265
Ortonville
Big Stone Lake | 35889 Meadowbrook State Park Road, Ortonville, MN 56278
Where to Eat 
Montevideo
Topper's Bar and Grill | Menu | 311 State Rd., Montevideo, MN 56265 | 320-269-9401
Jake's Pizza | 207 S 1st St, Montevideo, MN 56265 | 320-269-2115
Ortonville:
Headwaters Bar and Grill | 17 2nd St. N.W., Ortonville, MN 56278 | 320-839-2270
Lakewood Supper Club | 1073 Lake Shore Dr., Ortonville, MN 56278 | 320-839-9972
Where to Sleep When Visiting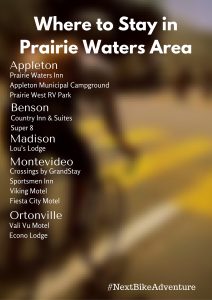 Public Wi-Fi spots in the Area 
Along with most hotels,  coffee shops and restaurants having Wi-Fi availability, the public library in the Prairie Waters Area are another good option:
The Appleton City Library  | 323 W Schlieman Ave., Appleton, MN 56208 | 320-289-1681
Benson Public Library | 200 13th St. N., Benson MN 56215 | 320-842-7981
Granite Falls Library | 155 7th Avenue, Granite Falls, MN 56241 | 320-564-3738
Madison Public Library | 401 6th Ave., Madison, MN 56256 | 320-598-7938
Montevideo Public Library | 224 S 1st St,. Montevideo, MN 56265 | 320-269-6501
Ortonville Public Library | 412 NW 2nd Street, Ortonville, MN 56278 | 320-839-2494
See the Prairie Waters Tourism Bureau for more detailed information.