At-A-Glance: Exploring Hutchinson – Fun and Food
Biking along the Luce Line State Trail is just one of the cycling opportunities visitors can find when in Hutchinson, MN. Known as Minnesota's Hometown, you will feel welcomed and comfortable, just as you would where you are from. Located in central Minnesota, Hutchinson is the ideal location for an exciting day trips or an enjoyable weekend getaways with your bike.
Each year, thousands of people visit the trails, family attractions, fun places to eat and recreation opportunities here. About an hour drive west, from the Twin City metro area, you will find many bicycle riding options, plus many fun things to do when not pedaling.
When not biking, the warm summer air welcomes good times with outdoor art fairs, restaurant patios, festival events, maybe a round of golf or try their disc, or mini golf for a change of pace. Bowl a few frames with friends or test your batting skills at the batting cages. If you enjoy something a little more extreme, paintball could be a great option for you. In the Fall enjoy the colorful array of the fall foliage in the city and nearby county parks, while local winery and brewery establishments offering the crisp flavors of the harvest. In between winter fat bike experiences, explore their ice rinks and many trails for: snowmobiling, cross country skiing and snowshoeing. Spring flowers bloom in the parks and along the local bike trails welcoming another season to come back, again and again.
Where to Bike in the Area
Being a bike-friendly community, you will find riding the streets and roads in the area safe and relaxing. Along with the 63-mile Luce Line Trail offering a scenic bicycle excursion from the western suburbs of the Twin Cities, you will be amazed at the beauty as you arrive riding in along the Crow River through Hutchinson. Also, Stahls Lake Mountain Bike Park and the new Hutchinson terrain are worth checking out.  Or, you could also join in on one of the many community bike rides.
Available Maps for the Area
HaveFunBiking Hutchinson Area Map
Hutchinson Interactive Map
Hutchinson (Map My Ride) Map
Luce Line Trail (DNR) Map
Stahls Lake Park (Single track mountain bike park)
Tartan Terrain Park
Walk/Hiking Opportunities
You will be amazed at their beautiful city park system, encompassing over 30 individual recreation areas.
Hutchinson Recreational Brochure
Area Bike Shops and Clubs
Outdoor Motion | 141 Main St. S,, Hutchinson, MN 55350 | 320-587-2453
Water Carninival Rotary Bike Ride
Where to Play When Not Biking or Hiking
Crow River Winery | 14848 Highway 7 East, Hutchinson, MN 55350 | 320-587-2922
Hutch Bowl | 1150 Highway 7 W. Suite A, Hutchinson, MN 55350 | 320-587-2352
Cedar Mills Karting | 62841 140th St., Hutchinson MN 55350 | 952-594-4854
Under the Clock Framing and Gifts Main Website | 720 Century Ave. S.W., Hutchinson, MN 55350 | 320-587-4438
Where to Eat
Zella's | Lunch Menu | Dinner Menu | 14 Main St. S., Hutchinson, MN 55350 | 320-587-9463
Tokyo Grill | 1190 Highway 7 West, Hutchinson, MN 55350 | 320-587-8880
Sonora's Mexican Restaurant | 15 2nd Ave. S.W., Hutchinson, MN 55350 | 320-587-7303
McCormick's Family Restaurant | 1105 Highway 15 S., Hutchinson, MN 55350 | 320-587-4417
Where to Sleep When Visiting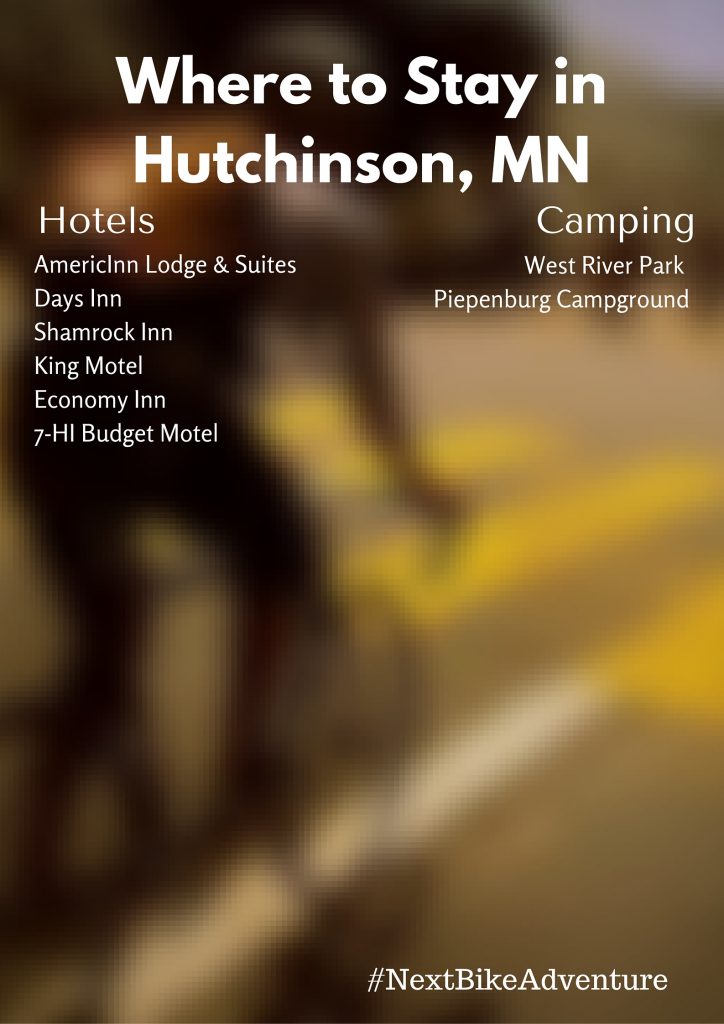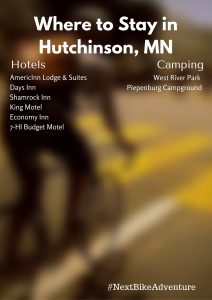 Public Wi-Fi Spots in the Area
Along with most hotels, many coffee shops and restaurants have Wi-Fi availability. Additionally, the public library is another good option. Hutchinson Public Library is located at 50 Hassan Street S.E., Hutchinson, MN 55350 and can be contacted by calling 320-587-2368.