At A Glance: South Saint Paul – Fun and Food
Biking along the Mississippi River Trail (MRT) is just one of the many opportunities visitors will find when cycling here in the Southeast side of the Twin City Metro Area. As Ol' Man River bends through St. Paul, Minnesota, opportunities for mountain biking, paved trail riding, and road touring make this area fun to explore.
The first thing that riders will notice while biking in the four communities of South St. Paul are the downtown skyline features and colorful scenery as the Minnesota River meets the Mississippi near Fort Snelling State Park. Along with a long list of places to stay and explore here, in this South metro area you will find many bicycle riding options.
Each year there are thousands of people who visit the trails in the South metro communities of Eagan, Inver Grove Heights, Mendota Heights, and South St. Paul. Offering many fun attractions, delicious places to eat, amazing natural beauty, and recreational options while staying makes this area a great place to visit. Everything fun that you would expect from a series of river towns along the Mississippi River is right here at your fingertips.
When not biking, the warm summer air welcomes good times with outdoor art fairs, restaurant patios, festival events, and water sports activities. In the Fall you can enjoy the colorful array of the fall foliage in the city and nearby county parks including the spectacular Salem Hills mountain bike park. While local winery and brewery establishments offer the crisp flavors of the harvest, there's always more to see, do, and taste. In winter you can experience fat biking or cross-country skiing along the river bottom. Plus, check out the opportunities in the historic downtown districts, take in the sights, and venture back in time to enjoy what these towns can offer. Spring flowers bloom in the parks and along the bike trails welcoming another season to back again.
Where to Bike in the Area
With four bike-friendly communities in this area you will find riding the streets and roads here safe and relaxing. You will also find miles of paved trails nestled throughout the communities. For the mountain bikers, no matter what expertise level, many fun trails are offered in nearby Salem Hills Parks and the river bottoms along the Minnesota River.
Available Maps for the Area
HaveFunBiking South St Paul Area Map
Mississippi River Regional Trail
Saint Paul Cycling Trails
Walk/Hiking Opportunities
Dodge Nature Park
Fort Snelling State Park
Friendly Marsh Park
Kapiosa Park & Landing
Mississippi River Trail
South Saint Paul Riverfront Trail
Thompson Park
Area Bike Shops and Clubs
OneTen Cycle | 1040 Dakota Dr., Mendota Heights, MN 55120 | 651-454-2066
Bike King | 6489 Cahill Ave., Inver Grove Heights, MN 55076 | 651-457-7766
Where to Play When Not Biking or Hiking
Como Park Zoo | 1225 Estabrook Dr., St. Paul, MN 55103 | 651-487-8201
CHS Field- St. Paul Saints | 360 N. Broadway St., St. Paul, MN 55101 | 651-644-3517
Science Museum of Minnesota | 120 W. Kellogg Blvd., St. Paul, MN 55102 | 651-221-9444
Minnesota State Capitol | 75 Rev. Dr. Martin Luther King Jr. Boulevard, St. Paul, MN 55155 | 651-296-2881   
Where to Eat
T & T Galley | 901 Southview Blvd., South St. Paul, MN 55075 | 651-451-0146
Old World Pizza | Menu | 5660 Bishop Ave., Inver Grove Heights, MN 55076 | 651-455-1551
The Fireside Lounge and Bar | Menu | 288 S. Robert St., West St. Paul, MN 55118 | 651-457-6397
Where to Sleep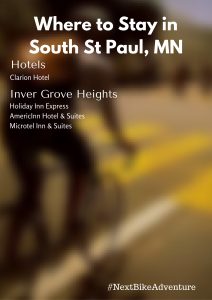 Public Wi-Fi Spots in the Area
Along with most hotels, coffee shops and restaurants have Wi-Fi available. Additionally, the public library is another good option.
The South Saint Paul Library is located at 106 3rd Ave. N., South St. Paul, MN 55075 and can be contacted by phone at 651-554-3240.
There are also other libraries in the area.