At a Glance: Exploring La Crosse – Fun and Food
An ideal destination for biking,  the La Crosse area offers miles of paved trails with many routes on low traffic roads. Additionally, it has several mountain biking areas near the Mississippi River Valley. After riding to your heart's content, you will have a chance to enjoy activities surrounded by nature, history, arts, and culture while having fun exploring La Crosse!
Where to Bike in the Area
The varied terrain of the La Crosse area makes biking trails and quiet county roads appealing to all outdoor enthusiasts that live or visit here. So hop on your bike and let your legs pedal you through beautiful parks, neighborhoods, and the low traffic back country roads.
Available Maps for the Area
HaveFunBiking La Crosse Area Map
La Crosse Downtown and Area Map
La Crosse Area Bike Route Map
Holmen & Brice Prairie Bike Route Map
North La Crosse, Campbell, and Unalaska South
South La Crosse Map
West Salem Map
La Crescent Map
Walk/Hiking Opportunities 
Many of the trails listed above are ideal for walks/hikes also.
Area Bike Shops and Clubs
Bikes Limited | 1001 La Crosse Street, La Crosse, WI 54601 | 608-785-2326
Blue Heron Bicycle Works | 213 Main Street, La Crosse, WI 54601 | 608-783-7433  
Buzz's Bikes and Boats | 800 Rose Street, La Crosse, WI 54603 | 608-785-2737
Smith's Cycling and Fitness | 125 North 7th Street, La Crosse, WI 54601 | 608-784-1175 
University of Wisconsin-La Crosse, Outdoor Connection | 1725 State Street, La Crosse, WI 54601 | 608-785-8860
Where to Play When Not Biking or Hiking
If all of this makes you want to kick back, relax, and enjoy some of the local attractions, then La Crosse has you covered. You can tour a La Crosse museum or even the local Brewing Company.
City Brewery – large local brewery | 1637 St James St, La Crosse, WI 54601| 608-785-4200
Children's Museum of La Crosse – widely known museum that is aimed for children amusement | 207 5th Ave. S., La Crosse, WI 54601 | 608-784-2652
Bluffview Park – all inclusive park with playground, tennis courts, two baseball diamonds, basketball court, shelter, picnic tables, and open area that has a gorgeous view of Grandad Bluff | 2800 Jackson St., La Crosse, WI 54601
Where to Eat
From the Cabin Coffee Company to the popular Culina Mariana, La Crosse offers several interesting and charming cafes, coffee, and ice cream shops ideally suited to a cyclist's taste.
Diggers Sting – old fashioned steakhouse | 122 3rd St. N., La Crosse, WI 54601 | 608-782-3796
Buzzard Billy's Flying Carp Café – offers unique dishes such as "gator fingers" and "armadillo eggs" | 222 Pearl St,  La Crosse, WI 54601 | 608-796-2277 
Buster's Wood Fired Pizza and Grill – burgers, steak, and pizza | 200 Pearl St, La Crosse, WI 54601 | 608-782-3236
Where to Sleep When Visiting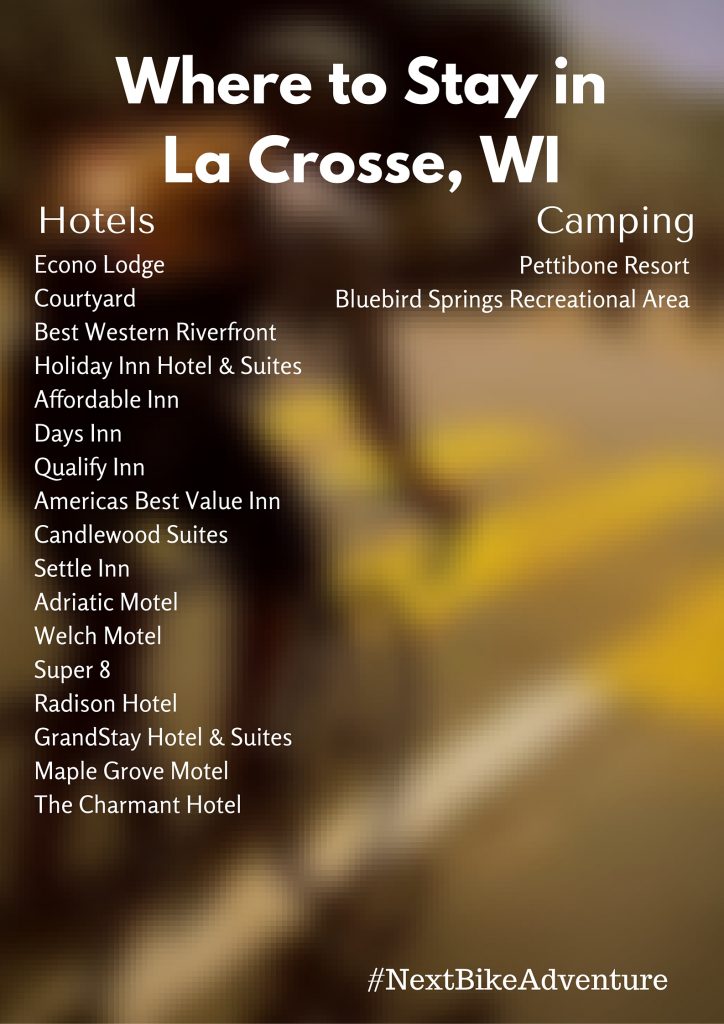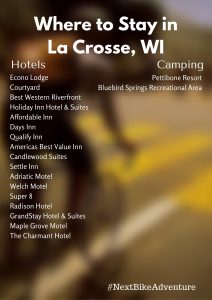 Public Wi-Fi Spots in the Area
Along with most hotels, many coffee shops and restaurants have Wi-Fi available. Additionally, the public library is another good option. The La Crosse Library has three locations:
Main Library | 800 Main Street, La Crosse, WI 54601 | 608.789.7100
North Community Library | 1552 Kane Street, La Crosse, WI 54601 |  608.789.7102
South Community Library | 1307 16th Street South, La Crosse, WI 54601 | 608.789.710
See the La Crosse Tourism Bureau for more detailed information.