From the Blog
The summer riding memories photo was captured at a festival in Minnesota this last summer. To help you find your next adventure, bookmark the Have Fun Bike Guide for all types of year-round bike events.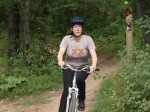 Mountain biker enjoys the trail loops in this park, from one crossing to the next. For more information on Minnesota's Mountain Biking parks and events see MORC (Minnesota Off-Road Cyclists) website.
Ice Cream Smiles Friday, above we found this cyclist enjoying a cone before finishing her ride.
Dad I am ready, I have checked out the course for the Wild Ride Mountain Bike Festival, with Strider Bikes for Kids, at Lebanon Hills Regional Park, can we go? Dakota County Park's is hosting this annual mountain bike event here at Lebanon Park for both beginner and experienced mountain bikers that come out - Plus the Strider Bike Adventure Zone for kids will be there with free bikes to demo.
This participant, like many others at Open Streets Minneapolis, on East Lake St., Aug. 2nd found the event fun to bike as many enjoyed walking. With eight locations to participate this year, from June 7th, through September 26th, Open Streets Minneapolis was a huge success.